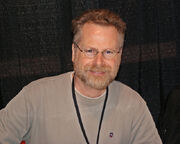 Dave H. Ross is a Canadian comic book artist who has worked on several comic books in Dark Horse Comics' Aliens and Aliens vs. Predator lines.
Biography
A graduate of Sheridan College, Canada, Ross has worked in the animation field as a designer and layout artist and as an illustrator on a variety of comics for various companies. He was in the past perhaps best known for his work on Avengers West Coast for Marvel Comics, Rai and the Future Force for Valiant, and for illustrating a story in the first Star Trek Annual issue from DC Comics. He has also worked on Spider-Man, Daredevil, Captain America, Catwoman, Batgirl, and numerous others.
Eventually, like many Aliens/AVP artists before him, Ross made the transition from Dark Horse's Aliens/AVP lines to the company's Star Wars comics, working first as an artist on the series Star Wars: Dark Times.
Most recently, Ross was chosen by Dark Horse and videogame company BioWare as the artist of the online/print comic Star Wars: The Old Republic, which ties in to the new Star Wars MMO video game released in 2010.
Ross is also active as a drawing instructor at Max the Mutt Animation School, Toronto where he helped to found Canada's only in depth Illustrtion program for comics and graphic novels.
Dave also does commissioned pieces.
Credits
Writer
Interior artist
Aliens
Aliens vs. Predator
Cover artist