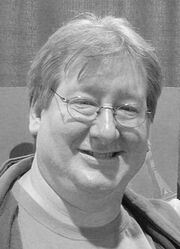 Dave Dorman (born 1958) is an American comic book artist who has worked on several comic books in Dark Horse Comics' Aliens, Predator, Aliens vs. Predator and Prometheus lines. He also created cover art for several Aliens and Predator novels from Bantam Books.
Biography
Edit
Dorman is perhaps best known in the comics field for his iconic Star Wars cover art for Dark Horse over the years and a number of his pieces are known to adorn the Lucasfilm headquarters in Northern California.
For years, Dorman's pioneering work at Dark Horse set a trend for the company's series to feature critically acclaimed painted cover art, and his work has served as inspiration for numerous cover painters who have followed him.
Aliens vs. PredatorEdit
PrometheusEdit
Novel covers
Edit
Ad blocker interference detected!
Wikia is a free-to-use site that makes money from advertising. We have a modified experience for viewers using ad blockers

Wikia is not accessible if you've made further modifications. Remove the custom ad blocker rule(s) and the page will load as expected.