"Is that damage?"
"It looks like damage."

This article, or a section of this article, does not meet Xenopedia's standards. Please help by improving the page.

"AVAILABLE DATA INSUFFICIENT"

This article is a stub or needs expansion. Help Xenopedia by expanding it.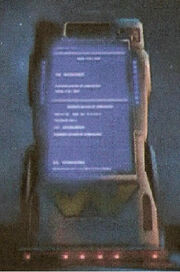 A datapad is an electronic used to hold information, whether it be in the form of text, audio recordings or video. In the video game Aliens vs. Predator, Karl Bishop Weyland has possession of an executive datapad with extra features, such as having an emergency transmitter.
Gallery