Dark Horse Presents
Talk

0
2,619pages on
this wiki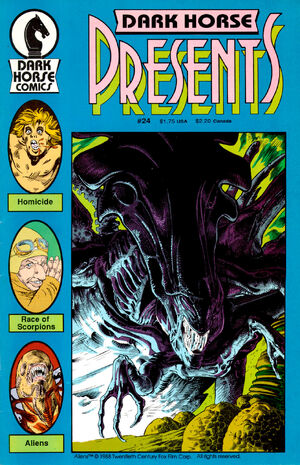 Dark Horse Presents
(or
DHP
) was a long-running comic book anthology series published by
Dark Horse Comics
from 1986-2000.
The first comic book ever published by Dark Horse and serving as its flagship title, the series would feature numerous Aliens, Predator and Aliens vs. Predator comics stories over the course of its 157-issue history, including the first ever Aliens vs. Predator story in DHP #36.
The company also released a number of one-shot annuals and special issues under the DHP title. Dark Horse Presents was primarily a black and white series, with annuals and special issues often printed in color. From 1992-1994, the company produced a second anthology series, entitled simply Dark Horse Comics, featuring color stories. The other comics anthology to feature new A/P/AVP content was the second volume of Dark Horse's Aliens Magazine in the UK, also in the early 90s. These three titles--along with a handful of other one-shots and special issues--account for most of the three titles' short comics story releases.
Dark Horse Presents was cancelled with issue #157 in September 2000. Volume 2 however, began in July 2007 as a color online supplement on the company's page at Myspace.com and continues till today as Myspace Dark Horse Presents (or MDHP). The company has just recently begun to publish it in print form, as well.
Volume one
Edit
Dark Horse Presents was conceived as an anthology title and was the first comic to be released by the newly formed Dark Horse Comics in 1986. The first issue featured Black Cross on the cover and was notable for the first appearance of Paul Chadwick's Concrete. The title became successful thanks to the increasing popularity of Concrete who quickly became the regular cover feature for much of the first few years of the title.
Concrete eventually spun into its own title, and this was something which would happen to several characters and stories appearing in Dark Horse Presents. These included John Byrne's "Next Men" comic book, as well as Frank Miller's Sin City stories, with the very first "Sin City" story (Later retitled "The Hard Goodbye") being serialized within the pages of the comic.
Dark Horse Presents was Dark Horse's longest running title, and provided a mix of material from established and new creators. The title ended with issue #157 in September 2000.
Dark Horse Presents' storied history with the Aliens, Predator and Aliens vs. Predator lines was almost instant as the company acquired the licenses to produce each title and continued till its final issues. In fact, the title could be looked at as the normal, default home for the three series given the "miniseries" format of their individual lines. This included many original short stories, serialized stories and limited series prologues which were later reprinted or collected in separate, stand-alone A/P/AVP releases or issue #0's in the case of the prologues.
Volume two
Edit
Volume two of Dark Horse Presents is an in-color title being made available through the social networking website MySpace. The first issue of the new volume featured new talents as well as well known writers like Joss Whedon and Ron Marz.
Aliens, Predator and AVP Appearances in Dark Horse PresentsEdit
24 appearances in total, see individual listings for story and reprint details and more info:
Other Annuals and Special Issues
Dark Horse Presents #24, released in Nov. 1988 and featuring the story Aliens: Theory of Alien Propagation, is sometimes erroneously referred to as the first Aliens comic to be published by Dark Horse, but this incorrect. That honor actually goes to Aliens #1 (first issue, first series), which was released in July 1988. And Theory of Propagation is actually a sidebar to that series.
Dark Horse Comics (company)
Aliens vs. Predator (Comics Series)
External Links
Edit
Dark Horse Presents on Myspace