Dark Horse Comics
Talk

2
2,617pages on
this wiki
Dark Horse Comics
Aliens
Predator
Aliens vs. Predator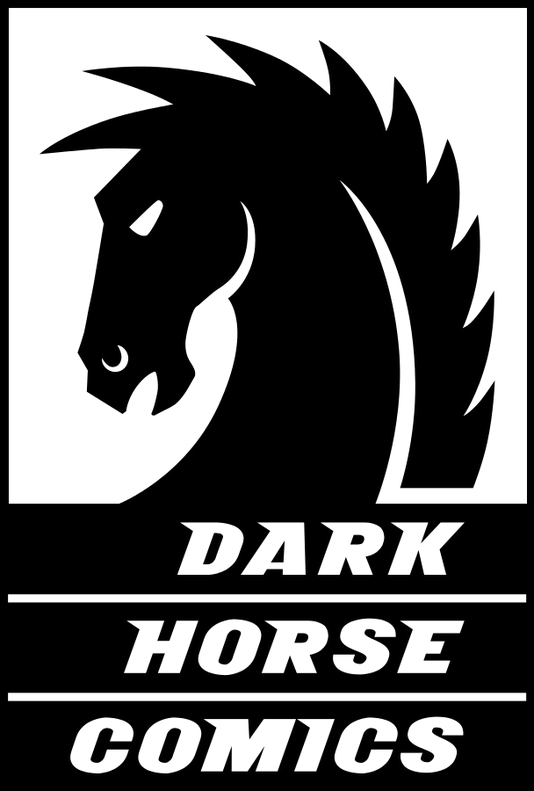 Dark Horse Comics
is an American comic book company based out of the Portland, Oregon area which publishes the
Aliens
and
Predator
comics lines, as well as crossover comics featuring the two franchises as the separate
Aliens vs. Predator
line. Dark Horse is currently the largest independent American comic book and manga publisher.
Mike Richardson opened his first comic book store, Pegasus Books, in Bend, Oregon in 1980, eventually becoming the owner of several comic book shops in the Portland, Oregon metropolitan area.
Richardson began to publish new, original comics stories in 1986 with an anthology series called Dark Horse Presents, investing profits from his stores into Dark Horse Comics. Currently, the publisher is based in Milwaukie, Oregon.
From its inception, Dark Horse has also always had an eye on crossing over into producing movies based on these and new Dark Horse properties, as well, and has done so with such films as The Mask, Aliens vs. Predator, Timecop and Hellboy film series. Dark Horse has also gone into book publishing and now also publishes novels of and reference books on its various movie series, including Aliens and Predator novels.
Over the years, Dark Horse has acquired many other prominent movie licenses, such as their most-widely known franchise, Star Wars. But it all began with their Aliens and Predator lines, and much of the talent working on their Star Wars, first began as artists, writers and editors on Aliens or Predator.
In 2009, after years of hiatus and publishing only reprint or cross-over material, Dark Horse successfully relaunched all three comics lines with new Aliens, Predator and AVP miniseries.
Aliens, Predator, AVP Publishing HistoryEdit
Dark Horse was started partly with the express purpose of acquiring various movie licenses to publish high quality adaptations and continuations of famous movie property story lines, and expanding on such properties.
In July 1988 Dark Horse released the first issue of its first Aliens mini-series, a direct continuation of the story from the film Aliens. Almost one year later in June 1989, Dark Horse released the first issue of the first Predator mini-series, also continuing the story from the film series. Both series were written by Dark Horse writer Mark Verheiden.
Dark Horse laid the foundation for connecting the Aliens franchise with the Predator franchise 1989, in the company's flagship anthology series Dark Horse Presents, issues #34, #35, featured Alien and Predator stories, and in Dec. 1989 issue #36 featured their first Aliens vs. Predator story (later released as Aliens vs. Predator #0), the first ever officially licenced material featuring a crossover between the two franchises and prequel to the first full-fledged Aliens vs. Predator mini-series, which followed shortly in June 1990.
The original Aliens vs. Predator comic (released roughly simultaneously with the film Predator 2, which featured the first overt on-screen hint at a crossover between the two franchises) was written by Dark Horse vice president, creative director and editor Randy Stradley.
Over the years Dark Horse has published a vast amount of Aliens, Predator and Aliens vs. Predator comics limited series, short stories and one-shots, collected variously in trade paperback form. To date, Dark Horse has published 56 Aliens titles, 33 Predator titles, 14 AVP series, and 18 miscellaneous AvP-crossovers with other major comics lines.
While limited series and one-shots would become infrequent at times, the lines also had a fairly consistent home in the pages of the Dark Horse Presents black-and-white anthology, and in a subsequent color sister-anthology titled simply Dark Horse Comics.
The comics were published fairly regularly from 1986-2000, but then would go mostly dormant throughout the most of the 2000s, save for a few AVP-film spin-off titles.
In 2008, the company began producing definitive, collected editions of the all of their Aliens, Predator and AvP comics for their Omnibus line, releasing four volumes of Predator Omnibus, six volumes of Aliens Omnibus, and two volumes of Aliens vs. Predator Omnibus.
Also in 2009, the company began its relaunch of new limited series for all three titles with the Aliens/Predator Free Comic Book Day flip-issue leading in to a new Predator series in 2008, a new Aliens series in 2009, and a new AVP series in 2010.
Aliens, Predator, AVP ReleasesEdit
See individual articles for details:
The first Dark Horse Comic to make the transition to the silver screen was The Mask, based on the comic book series of the same name by John Arcudi and Doug Mahnke (who would also go on to work on Dark Horse's Aliens and Predator lines). Arcudi returned as writer of both the new Aliens and Predator mini-series for their 2009 relaunch.
Publisher Mike Richardson is often credited as an Executive Producer on the Dark Horse properties that make it to the big screen.
Chris Warner, who was the artist on the first Predator miniseries in 1989, was elevated to the position of editor of all three lines in 2009.
External links
Edit
Dark Horse Presents in its current form, a free online comic produced in conjuncion with myspace.com: