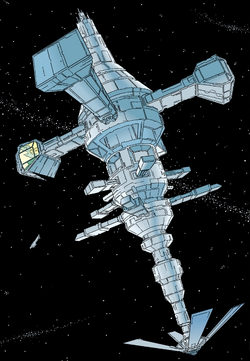 DS Service Terminal 949,[1] commonly referred to as DS 949, was a large deep-space transit space station. It was infested with Xenomorphs after several of the creatures escaped from a Weyland-Yutani transport ship carrying live specimens that docked at the station. The facility was later destroyed by a Weyland-Yutani Berserker hunter/killer team with a nuclear bomb.
Appearances
Edit
References
Edit
↑ S. D. Perry. Aliens: Berserker, p. 82 (1998), Bantam Spectra.
Ad blocker interference detected!
Wikia is a free-to-use site that makes money from advertising. We have a modified experience for viewers using ad blockers

Wikia is not accessible if you've made further modifications. Remove the custom ad blocker rule(s) and the page will load as expected.