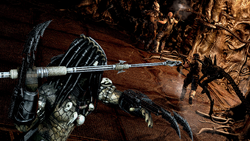 The Combi-Stick also known as the telescopic spear is a spear-like Yautja weapon. The Combi-Stick is telescopic, making it relatively small and easy to store when not in use but extending to its full length when required in combat. It is made of incredibly light, sharp, thin but strong material. It is primarily used as a close-quarters hand-to-hand weapon, although it can also be thrown like a spear.

A Yautja receives a Combi-Stick when they have finished all of their training, and have shown themselves ready to begin their first Hunt.[citation needed] Yautja have been known to decorate their Combi-Stick through time with skulls and mementos of different Hunts and moments in their long life, making the staff its prized possession.[citation needed] The Combi-Stick ultimately becomes more powerful. When a Predator dies an honorable death, they are buried with their spear.[citation needed]

The spear's advantage is that it is extremely fast, well balanced and extremely strong. It can also parry melee attacks, deflecting claws, teeth, bullets and blades as if they were hardly relevant. This only works on less skilled opponents. It is also very easy to throw because it's so light.
Yautja Spear Masters tend to train solely in the use of these weapons and have displayed their mastery in combat by holding back hordes of enemies. They also teach young predators in the art of wielding the powerful weapon. A Spear Master is the second highest rank next to Elder.
An ornate Combi-Stick was given to Lex Woods by an Ancient Yautja as a Trophy for defeating a Xenomorph Queen. It can be assumed that this was given to her as a sign that she had gone above and beyond the requirement for possessing one as she killed not only multiple Xenomorphs, but a Xenomorph Queen, something only few Yautja can ever accomplish during a Xenomorph Hunt.
In the novelization of Predator, the Jungle Hunter (which is very different in the book to the creatures now known from the films) carries a telescoping spear similar to a Combi-Stick as its weapon.[1] A similar weapon was at one point going to be used by the Jungle Hunter in Predator, but the weapon was dropped during production.[2] However, during the production of Predator 2, rumors started that someone had sneaked onto the set of the film and stole a replica of the spear, which were in fact true. Stan Winston and his team built another replica for the film's premiere a few months later.[citation needed]
There were two versions of the combi stick as the crew could not build one that fully extended, instead there was one built to extend the first extensions and another built with the first extensions already out which could not retract and this one would extend the spear tips.
Appearances
Edit
References
Edit
↑ Paul Monette. (1987). Predator novelization. Jove Books, 165.

 

↑ "Monster Legacy - Predator Metamorphosis – Part I: Predator". Retrieved on 2014-01-16.