Combat Knife
Talk

0
1,711pages on
this wiki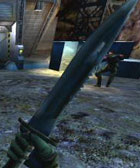 The
combat knife
is a knife which, hence its name, is used for combat purposes. It is used by humans, mainly the
United States Colonial Marines
.
The combat knife is first seen in the movie Predator when Dutch threw his knife at an opposing guerilla and pinned him to the wall. After the soldier was dead, Dutch said one of his famous lines, "Stick around".
It is seen another time when Poncho threw a pocket knife at Hawkins.
It is also seen when Billy challenged the Predator to a duel with a Bowie knife.
It is finally seen, when Dutch is preparing for his final confrontation with the Jungle Hunter. He uses it to furbish many of his traps and weapons.
The combat knife is very rarely seen in the movie. It sees no actual combat usage but is seen used in the canteen in a little game Hudson and other marines playing. It is here where they mention Marines being masters of knives.
The combat knife in AVP2 is the standard issue melee weapon for the Marines. It is a relatively weak weapon serving only to smash away debris, glass, and in one instance, kill a Weyland-Yutani security guard. They can also be used to defeat Chestbursters to save ammunition in the later levels and is about the only weapon that can quickly cut through a Predator's net from their netgun.
Otherwise the knife serves as a weapon for limited situations, such as saving ammo or as a last resort. It's considered suicide to use the knife versus Xenomorphs and equally insane to face a Predator with one. It is however partially effective versus humans, an attack from behind will kill a human instantly with the knife and it can be used effectively in close combat.
When a knife attacks, it swipes in a double slash, left and right.
It seems to be a cross between a military bayonet and survival knife, due to the bayonet ring and serrated edge.