Clark was a crewmember who was part of the crew of the Geryon sent on a 'salvage mission' on the moon LV-223.
Biography
Edit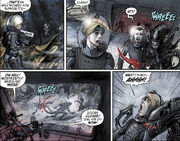 Clark was talking to another crewmember outside of the Helios, observing one of the moon's monkey-like creatures before being suddenly impaled in the back by a Xenomorph. The others inside the Helios seal the ship up, leaving the other crewmember outside to die.
Appearances
Edit
Ad blocker interference detected!
Wikia is a free-to-use site that makes money from advertising. We have a modified experience for viewers using ad blockers

Wikia is not accessible if you've made further modifications. Remove the custom ad blocker rule(s) and the page will load as expected.