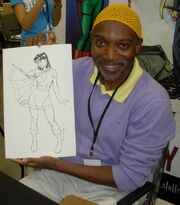 Brian Stelfreeze is an American comic book artist and cover painter who worked on the comics Predator: Cold War and Aliens vs. Predator for Dark Horse Comics.
Biography
Edit
A popular cover artist on numerous titles for major comics companies Marvel, DC Comics, and Image Comics, Stelfreeze is perhaps best known for his regular cover artist duties on the entire run of the series Batman: Shadow of the Bat for DC Comics in the 1990s-2000s.
Stelfreeze is one of the founders of Atlanta-based Gaijin Studios, which has produced a number of top comic book talents in recent years. He is also art director for the start-up 12 Gauge Comics company.
Stelfreeze's latest work can be seen on the Demon/Catwoman feature in DC Comics' Wednesday Comics, written by fellow Aliens/Predator comics contributor Walter Simonson.
Interior artist
Edit
Cover artist
Edit
External Links
Edit
Ad blocker interference detected!
Wikia is a free-to-use site that makes money from advertising. We have a modified experience for viewers using ad blockers

Wikia is not accessible if you've made further modifications. Remove the custom ad blocker rule(s) and the page will load as expected.