The bolt gun (or boltgun) was a pneumatically-powered improvised weapon. While markedly sluggish to operate, requiring a few seconds to charge before being able to fire, the industrial hardware it fired was devastating to humans and Working Joes.
In 2137, Sevastopol Station residents working in the station's engineering section frequently weaponized their tools, leading to a reminder not to do so being written on a white board. When Amanda Ripley came to the station searching for the USCSS Nostromo's flight recorder unit, she found a bolt gun in engineering that had been constructed by Chief.
Gameplay
The bolt gun will kill both standard Joes, hazmat Joes, and humans with a single clean headshot. Like the shotgun, it is capable of temporarily stunning the Xenomorph, giving Amanda a very small window of escape. However, by the time the bolt gun charges up, the Xenomorph will have probably killed Ripley.
Behind the scenes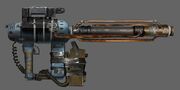 In reality, bolt gun is another name for a captive bolt pistol, which is a device used for stunning animals prior to slaughter and bears little resemblance to the weapon in Alien: Isolation. The name of the weapon in the game apparently refers to its ammunition, which seem to be anchor bolts, likely the same used by Sevastopol's engineers for repair jobs.
The Muhler & Milland power pack taped to the front of the bolt gun's grip, which can also be found unmodified in other locations in the game as well as being on some advertisement boards. It is based on the battery attached to the cattle prods used in Alien, while the bolt gun's barrel was designed to resemble the cattle prod itself.[2]
In the game's files, there are two versions of the bolt gun referenced in the form of "WEAPONS_RIVETGUN" and "WEAPONS_RIVETGUN_MOD_SMG", perhaps implying that there would be an alternate version of the bolt gun the player could acquire that would fire faster.
Appearances
Gallery
References
↑ Andy McVittie. The Art of Alien: Isolation, p. 43 (2014), Titan Books.