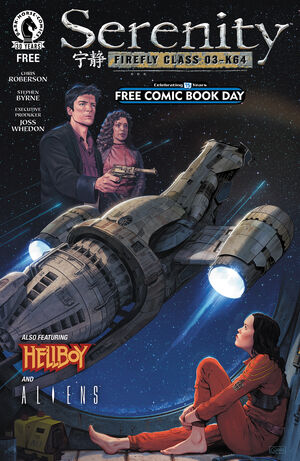 Free Comic Book Day 2016: Serenity is a one-shot comic book that was published by Dark Horse Comics to commemorate the Free Comic Book Day 2016 event on May 7. It features three stories. From the world of Joss Whedon, a glimpse at the crew of theSerenity, following the film and the smash-hit series Leaves on the Wind. A lesson from Hellboy's past is shared by Mike Mignola and Richard Corben. The final story, written by Brian Wood and illustrated by Tristan Jones, is titled Aliens Defiance: Extravehicular, and will peek into the Aliens: Defiance series with an original tale.
The short story will serve as a tie-in to the 12-issue series Aliens: Defiance, produced by the same creative team.
In the Aliens comics line, Aliens is preceded by Aliens: Fire and Stone and will be published concurrently with Aliens: Defiance.
Plot
Follow Colonial Marine Private First Class Zula Hendricks, Dr. Hollis and the Davis Synthetics as they deal with Xenomorphs on the Europa during an uncontrolled reentry to planetoit W76. This story takes place in May of 2138, six months after Aliens: Defiance, Episode One: Derelict.