Batman versus Predator III: Blood Ties
Talk

0
| | |
| --- | --- |
| | This article covers a licensed crossover event that has been deemed non-canon by either the author or the Alien vs. Predator licensees, and thus should not be taken as a part of the "real" Alien vs. Predator universe. |
Batman versus Predator III: Blood Ties is a four-issue limited crossover comic book series that was first published by Dark Horse Comics and DC Comics from December 1997-February 1998. It was written by Chuck Dixon, illustrated by Rodolfo Damaggio, inked by Robert Campanella, lettered by John Costanza, colored by Pat Garrahy, Heroic Age and Lee Loughridge, and edited by Scott Peterson, Denny O'Neil and Darren J. Vincenzo, with cover art by Damaggio and Campanella. In the comic, Batman is joined by fellow Gotham-based characters Robin, Oracle, Catwoman and Mister Freeze when two more Predators come to their city.
Blood Ties was a sequel to 1991 Batman versus Predator and 1993's Batman versus Predator II: Bloodmatch.
In the overall Dark Horse crossover comics line, Batman versus Predator III: Blood Ties was preceded by Predator versus Judge Dredd and was followed by WildC.A.T.s/Aliens.
Reprint History
Edit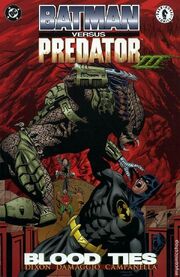 Batman versus Predator III: Blood Ties was eventually collected in trade paperback form released in June 1998, featuring a new cover by Damaggio and Campanella.
Behind the Scenes
Edit
Veteran comics writer Chuck Dixon is perhaps best known for his work with Batman during his time as writer for DC Comics' flagship title Detective Comics in the 1990s. He also wrote the Predator story Predator: The Pride at Nghasa for Dark Horse.
For some reason, Blood Ties is not currently listed on either Dark Horse Comics' or DC Comics' websites.
Issue covers
Edit