| | |
| --- | --- |
| | This article covers a licensed crossover event that has been deemed non-canon by either the author or the Alien vs. Predator licensees, and thus should not be taken as a part of the "real" Alien vs. Predator universe. |
Batman versus Predator is a three-issue limited crossover comic book series that was first published by Dark Horse Comics and DC Comics from December 1991-February 1992. It was written by Dave Gibbons, illustrated by Andy Kubert, inked by Adam Kubert, colored by Sherilyn Van Valkenburgh and edited by Diana Schutz of Dark Horse and Denny O'Neil of DC Comics. Two different versions of the series were simultaneously published in regular and prestige formats; the covers for the regular series were by Chris Warner and Gregory Wright, while the covers for the prestige version were by Arthur Suydam.
An immense success at the time of its original release, the series was eventually followed by two sequels, Batman versus Predator II: Bloodmatch, from December 1993-March 1994, and Batman versus Predator III: Blood Ties, from December 1997-February 1998.
Batman versus Predator was the first comic book produced by Dark Horse that crossed the company's Aliens/Predator/Aliens vs. Predator properties with another franchise. It began a series of franchise crossover comics that has continued irregularly ever since, involving both other Dark Horse properties and those from other major publishers. In the overall Dark Horse crossover comics line, Batman versus Predator was followed by Predator versus Magnus, Robot Fighter.
The prestige version of the comic featured different cover art, was printed on different paper stock and came with a selection of trading cards. These trading cards featured work by artists John Byrne, Matt Wagner, Chris Warner, Tim Sale, Gregory Wright, Mike Mignola, Sam Kieth, Steve Rude, Jackson Guice, Chris Chalenor, Lovern Kindzierski, Arthur Adams, Adam Hughes, Michael W. Kaluta, Walter Simonson, Richmond Lewis, Tom Yeates, John Higgins, Joe Kubert and Sam Parsons. The trading card images were also featured as pin-ups in issue #2.
Publisher's Summary
Edit
#1: The hunter becomes the hunted as Batman, Earth's ultimate detective, is pitted against Predator, the galaxy's most ruthless hunter! Neither is known for their ability to compromise, assuring readers a break-neck paced three-issue series!
#2: The hunter becomes the hunted as the tale of Batman, Earth's ultimate detective, is pitted against Predator in the second installment of this blockbuster comics event.
#3: The final showdown takes place in the Batcave, as the wily Predator hitches a ride on the Batmobile. But man versus alien it isn't, as Batman discovers that Predator is not alone!
Characters
Edit
Reprint History
Edit
Batman versus Predator was serialized and reprinted in the United Kingdom in 9 parts in Total Carnage #1-9, from April-December 1993.[1]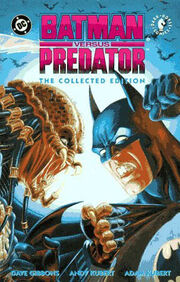 The comic was also collected and released as a trade paperback in April 1993, with a new cover by series writer Dave Gibbons.
Behind the Scenes
Edit
The overwhelming success of Batman versus Predator would pave the way for numerous other cross-over series between Dark Horse's various series, the Aliens and Predator lines in particular, with other Dark Horse properties and those from other companies. It would also inspire the popular and influential 2003 fan short film Batman: Dead End.[2]
Brother comic book illustrators Andy and Adam Kubert are the sons of famed comic book illustrator and educator Joe Kubert--founder of the Kubert School of Cartooning in New Jersey from which many successful comics have come out of. Both brothers would go on to successful careers are comics illustrators in their own right which continue to this day in such high profile titles Marvel's X-men, DC's Batman and countless others.
Writer Dave Gibbons is also a famed comic book illustrator who was co-creator as artist with writer Alan Moore of DC's groundbreaking Watchmen, which was later turned into a movie of the same name.
Issue covers
Edit
References
Edit
↑ "Hasslein Blog - The Alien/Predator Comic Strips, Part Two". Retrieved on 2015-06-15.
↑ Sandy Collora, Daren Hicks, Simon Tams, Gregory Ramoundos. The Making of 'Batman: Dead End' [YouTube]. Sharpline Arts.