| | |
| --- | --- |
| | This article covers a licensed crossover event that has been deemed non-canon by either the author or the Alien vs. Predator licensees, and thus should not be taken as a part of the "real" Alien vs. Predator universe. |
Batman/Aliens Two, also known as Batman/Aliens II, is a three-issue limited crossover comic book series that was first published by Dark Horse Comics and DC Comics from December 2002-February 2003. It was written by Ian Edginton, illustrated by Staz Johnson, inked by James Hodgkins, lettered by John E. Workman, Jr., colored by Digital Chameleon and Gregory Wright and edited by Michael Wright, with cover art by Johnson.
Batman/Aliens Two was a sequel to 1997's Batman/Aliens.
In the overall Dark Horse crossover comics line, Batman/Aliens Two was preceded by JLA versus Predator and Witchblade/Aliens/Darkness/Predator: Mindhunter and was followed by Superman/Aliens II: God War.
Publisher's Summary
Edit
#1: A Gotham City construction crew uncovers a sealed vault housing an unspeakable horror! Eighty years ago, an expedition to the South Pole uncovered a crashed spaceship, a spaceship containing the bloodthirsty Aliens. Now, after years in hibernation, a nearly desiccated Alien is unleashed upon the modern world. And it's very, very hungry! Only one man has a chance of stopping this murderous beast... the Dark Knight Detective known as Batman!
#2: A black-ops government agency has taken over the Aliens case! But there's still at least one very fierce, very hungry Alien on the loose in Gotham City! Can Batman stop it from wreaking havoc in Arkham Asylum?
#3: The thrilling conclusion to the 3-issue Prestige Format series! Batman's been imprisoned in a secret government base... but even if he escapes to face his mysterious abductor, he'll have to battle a fearsome cadre of super-soldiers biologically engineered from the DNA of captured Aliens and Arkham's most notorious psychopaths!
Reprint Histroy
Edit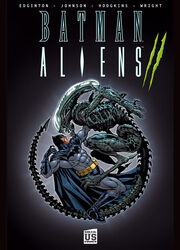 Batman/Aliens Two was collected in trade paperback form, under the title Batman/Aliens II, and released in September 2003, featuring a modified version of Staz Johnson's cover to issue 2 that repeated the circular Batman-fighting-an-Alien motif.
Behind the Scenes
Edit
Batman/Aliens Two writer Ian Edginton was perhaps one of the most prolific Aliens/Predator/AVP comics writers during his time with the franchises, having previously worked on a number of series throughout the three lines including Aliens: Rogue, Aliens versus Predator: Eternal and Predator: Rite of Passage, among others.
The circular Batman-fighting-an-Alien motif featured on cover #2 and repeated against a different back background for the tradepaperback would become the most common cover-motif for Aliens and Aliens vs. Predator comics in the 2000s, being adapted/repeated on the covers of the Aliens versus Predator versus The Terminator trade paperback edition (showing all three movie monsters fighting), and of Alien vs. Predator 2: Civilized Beasts (with an Alien and a Predator fighting).
Issue covers
Edit