Batman/Aliens II
Talk

0
2,567pages on
this wiki
| | |
| --- | --- |
| | This article covers a licensed crossover event that has been deemed non-canon by either the author or the Alien vs. Predator licensees, and thus should not be taken as a part of the "real" Alien vs. Predator universe. |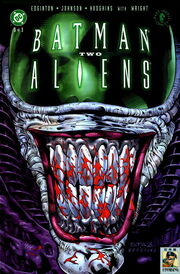 Batman/Aliens II (aka Batman/Aliens Two) was a three-issue limited comic book series published by Dark Horse Comics and DC Comics from December 2002-February 2003.
It was written by Ian Edginton, drawn by Staz Johnson, inked by James Hodgkins, lettered by John E. Workman, Jr., and colored by Digitcal Chameleon & Gregory Wright. The series featured covers by Johnson and was edited by Michael Wright.
Batman/Aliens II was collected in trade paperback form released in September 2003, featuring a new cover which repeated the circular Batman-fighting-an-Alien motif from issue 2.
The story was the sequel to the popular 1997 cross-over series Batman/Aliens (March-April 1997).
In the overall series of Dark Horse cross-over comics, Batman/Aliens II was followed by Superman/Aliens II: God War.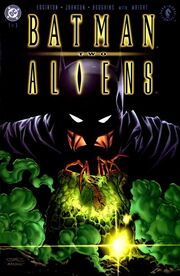 Official description:
The miniseries that brought the ferocious Aliens into Batman's backyard again! A construction crew uncovers a sealed laboratory where the last survivor of an Antarctic expedition sought to seal away the evil he carried back to Gotham City. Now that evil has escaped, and only Batman can stop it!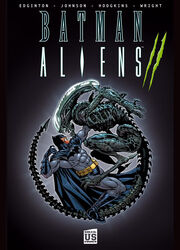 Behind the Scenes
Edit
Batman/Aliens II writer Ian Edginton was perhaps one of the most prolific Aliens/Predator/AVP comics writers during his time with the franchises, having previously worked on a number of series throughout the three lines including Aliens: Rogue, Aliens vs. Predator: Eternal and Predator: Rite of Passage, among others.
The circular Batman-fighting-an-Alien motif featured on cover #2 and repeated against a different back background for the tradepaperback would become the most common cover-motif for Aliens and Aliens vs. Predator comics in the 2000s, being adapted/repeated on the covers of the Aliens versus Predator versus The Terminator trade paperback edition (showing all three movie monsters fighting), and of Alien vs. Predator 2: Civilized Beasts (with an Alien and a Predator fighting).