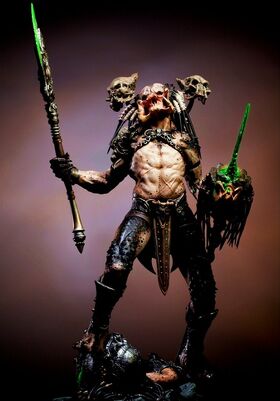 Bad Blood is the phrase used for any Yautja that has turned against its own kind and severely violated aspects of the Yautja Honor Code - intentional or not.
Overview
If the individual is found to have brought dishonor to his people and flees before accepting punishment, there can be no forgiveness according to Predator tradition. Other Predators are allowed to eliminate the outcasts on sight. Bad Bloods are never accepted back into Predator society. Wandering aimlessly, some Bad Bloods have been known to hunt and slay anything alive, including other Predators.
Bad Bloods are seen as more hostile and "mentally unstable" Predators. Bad Blood weapons vary from normal Predator normally marked with certain insults to Predator kind. These sadistic hunters still use skills taught to them by their brothers, but have developed dishonorable fighting styles.
Enforcer Predators are tasked with hunting down known Bad Bloods and eliminating their existence. Whether these Predators operate as a police caste or bounty hunters, or act solely out of personal duty is unknown.
Notable cases
Known Bad Bloods
Appearances
Gallery