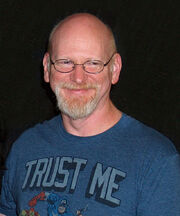 Arthur "Art" Adams (born April 5, 1963) is an American comic book artist and writer who has worked on several comic books in Dark Horse Comics' Aliens and Predator lines. During his decades long, award-winning career, Adams has worked for virtually every major and indie comics company. He is perhaps most known for his work with various Marvel Comics superheroes in the 1980s, though his career has continued through to the present.
Biography
Born in 1963 in Holyoke, Massachusetts, Arthur Adams became a fan favorite when he penciled the critically-acclaimed Longshot limited series, written by Ann Nocenti and published in 1985 by Marvel Comics. Adams' highly distinctive and detailed artwork gained him considerable popularity and he found it easy to find further work in the field. However, due to the labor-intensive nature of his detailed art (Adams has mentioned in interviews that, especially for cover art, he sometimes would take days to get a piece just right), Adams found it difficult to meet the short deadlines often found in the comics industry. This has led to him to pursue work for shorter projects such as miniseries, specials, and annuals rather than pursuing work for ongoing comic book series. Exceptions to this include a 1989 two-issue run on X-Factor, and a 1990 three-issue run on Fantastic Four. He also had a ten-issue run on Tom Strong's Terrific Tales (2002–2004), which being an anthology, required only eight pages from him for each issue.
Adams' distinctive style has often been named as a considerable influence among a newer generation of comic book artists, such as J. Scott Campbell. His meticulous attention to detail and unique (for the time period) style made him a highly sought after artist. Adams was also one of the founders of the short-lived Legend imprint for Dark Horse Comics. Adams has worked on many notable series, including various X-Men titles, Fantastic Four, The Authority, Tom Strong, Gen¹³, as well as numerous annuals. He is also known for Art Adams' Creature Features, a collection of previously published stories that paid tribute to various B-movie monsters, published by Dark Horse Comics. Some of the stories had been originally published in black and white, but they were colored for the collection. Along with writer Steve Moore, Adams is the co-creator of Jonni Future, a character in Tom Strong's Terrific Tales.
Most of Adams' work has been on properties owned by others, but he is also the author of the creator-owned series Monkeyman and O'Brien, also published by Dark Horse.
Adams is also a highly-regarded cover artist, and he has provided cover images for issues of Superman, Batman, Justice League of America and Vampirella, among other titles. In addition to his work on comics themselves, he has also produced commercial art, such as numerous illustrations for trading cards, posters, shirts, and various other comics-related merchandise. Outside the field of comics, he has also provided illustrations for various magazines, movies, games, worked in toy design, and even a series of X-Men-themed Campbell Soup cans.
Adams illustrated the covers for Marvel's Incredible Hercules #113 - 115 (January - May 2008), as well for three of its collected editions. He drew half of Hulk #7 - 9, sharing art duties on those anthology issues with artist Frank Cho. Adams currently illustrates Ultimate X, a mini-series written by Jeph Loeb that premiered in February 2010. In 2011 Wildcard Ink / Gumby Comics will be releasing Art Adams Eisner winning Gumby Summer Special and Winter Special after 24 years of not seeing print.
Adams' work on Longshot won him the Russ Manning Award in 1986. He also won, with writer Bob Burden, the 1988 Best Single Issue Eisner Award for Gumby Summer Fun Special.
Credits
Interior artist
Aliens
Predator
Cover artist
External Links