Aliens vs. Predator: War (comic)
Talk

0
1,946pages on
this wiki
This article is about the original 1995 comic book series, Aliens vs. Predator: War. For the 1999 novelization of the same name, see here.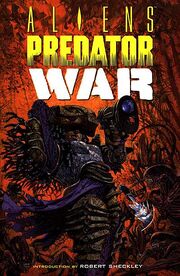 Aliens vs. Predator: War (originally Aliens versus Predator: War, and then Aliens/Predator: War in trade paperback) was a five-part comics series published by Dark Horse Comics from May-Aug. 1995 numbering issues #0-4. The contents of issue #0 were originally serialized in issues #1-14 of the promotional series Dark Horse Insider, Vol 2.
War was written by Randy Stradley and drawn by Chris Warner, Mike Manley, Jim Hall, & Mark G. Heike. It was inked by Ricardo Villagrin and Warner. Covers were provided by Richard Corben. Additional interior artwork for issue #0 was also allegedly provided by Stradley himself, according to the Dark Horse comics website. Issue #0 was edited by Edward Martin III & Bob Cooper, while the rest of the series was edited by Cooper alone.
The series was first collected in trade paperback form under the new title of Aliens/Predator: War in May 1996 featuring a new painted cover by artist Duncan Fegredo and an introduction by Robert Sheckley. (This trade paperback also collected the stories Aliens vs. Predator: Blood Time and Aliens vs. Predator: Duel.) It was finally definitively reprinted under the title "Aliens vs. Predator: War" in Aliens vs. Predator Omnibus: Volume 1 in June 2007.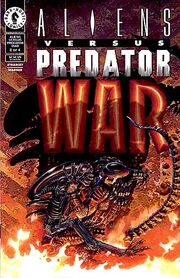 The series was also adapted into a
novel of the same name
as part of the
Aliens vs. Predator
novel series.
War served as a direct sequel to the original Aliens vs. Predator comics series (1989-90), continuing the adventures of original series protagonist Machiko Noguchi. It also featured tie-ins with the previous AVP story Aliens vs. Predator: Duel and the Aliens story Aliens: Berserker. In 2010, Dark Horse Comics launched the new series Aliens vs. Predator: Three World War which further continued Noguchi's adventures and thus--along with the original AVP series and War--completing a trilogy of AVP comics series starring her.
In the AVP comics line, Aliens vs. Predator: War was published concurrently with Aliens/Predator: Deadliest of the Species (July 1993-Aug. 1995) and was followed by Aliens vs. Predator: Booty (Jan. 1996).
Official description of individual issues: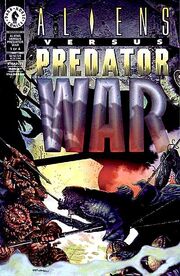 Sometimes reeling-in the catch of your life can mean the end of your life. Machiko Noguchi, the last survivor of the colony on Ryushi, is journeying aboard a massive Predator ship when a freshly caught Alien Queen snaps her tethers, destroying all in her path. Unfortunately for her, Machiko is in that path.
First blood or last breath. Those are the only choices in Aliens vs. Predator: War! The Predators converge on the seed planet, Bunda, for the biggest bug hunt yet, each taking position to draw first blood. Machiko, the human survivor from Dark Horse's historic first Aliens vs. Predator series, and now a full-fledged member of the Predator clan, is forced into a duel in order to claim her rightful place in the upcoming hunt. But when a new group of humans shows up, including the three survivors from the end of Aliens: Berserker, what began as sport becomes serious business.
The quick death of a fractured spine, or the extended agony of birthing a chestburster. If you had your choice, which would it be? Find out how a band of displaced humans deals with this dilemma in the second issue of Aliens vs. Predator: War! Loose ends begin to tie together, drawing characters and situations from the first AvP series, from Aliens: Berserker, and from the very recent AvP: Duel! This issue comes packed with adrenaline!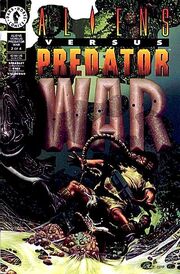 Aliens and Predators: two deadly species fighting for domination of an otherwise abandoned world. What they didn't count on was the added confrontation of the deadliest species of all... the species known as humans! Guns are pumped, knives are wrapped, and claws are sharpened in preparation for the all-out battle for the planet Bunda! Three bloodthirsty armies prepare themselves for an all-out WAR!
War is all about lines, the kind you draw between your enemies and your allies. But those lines become blurred in the conclusion to Aliens vs. Predator: War! Machiko Noguchi has abandoned her Predator allies and joined the human survivors on Bunda. But perhaps she'll reconsider her position when the humans find themselves caught between the ultimate in rocks and hard places! It's the final battle of this all-out war, with the Aliens on one side and Predators on the other, and the outmanned humans hang their only hopes on a fearsome and uncontrollable suit of MAX berserker armor!