Aliens vs. Predator: Duel
Talk

2
1,981pages on
this wiki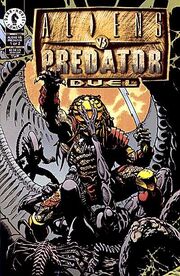 Aliens vs Predator: Duel
was a two-issue limited comic book series published by
Dark Horse Comics
from May-April 1995. The story was written by
Randy Stradley
, drawn by
Javier Saltares
and inked by
Jimmy Palmiotti
. It was colored by James Sinclair and edited by
Edward Martin III
&
Ryder Windham
.
In AVP Comic-verseEdit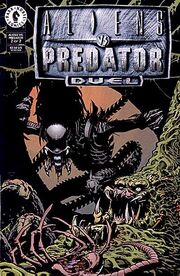 Duel was first collected alongside other AVP stories in the tradepaperback edition of Aliens/Predator: War in May 1996. It was finally definitively collected in Aliens vs. Predator Omnibus: Volume 1 in June 2007. The story was a sequel to the original Aliens vs. Predator comics miniseries and the short story Blood Time. It follows a squad of Colonial Marines that come to the planet Ryushi to investigate a distress signal. It was most notably the first official appearance of the Predalien. In the AVP comics line, Duel was published concurrently with Aliens/Predator: Deadliest of the Species (July 1993-Aug. 1995) and was followed by Aliens vs. Predator: War (May-Aug. 1995).
Official description of individual issues: The violent clash of Alien against Predator left the planet Ryushi a desolate wasteland. But now, years later, a mysterious alien beacon beams a distress signal from the supposedly abandoned world. When Marine ship Brilliant responds to the call for aid, they step neck deep into disaster!
It's hard enough going toe-to-toe with the meanest Aliens in the galaxy, even if you are the toughest Marine hombres around. But throw in a batch of fresh Predators, and the only solution to this dilemma will have you wiping blood from your goggles for the next week!
External links
Edit