"I had often wished that there was an ALIENS fan club. After much thought I decided to take the plunge and sink a bit of my own money into starting one."
―Simon Clarke[1]

The Aliens Fan Club (or The Aliens Fan Club), also known as The British Aliens Fan Club, was a forum for fans of the Alien franchise founded by Simon Clarke in 1991.[2] As the club ran, it grew in popularity,[1] being featured in Aliens magazine and hosting 2 conventions.[1] However, due to legal issues with 20th Century Fox, the club ceased.[1]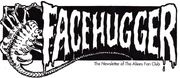 The club was founded by Simon Clarke in 1991. Initially, it was set up for British fans, but members began joining from countries such as Denmark, Sweeden, France and Finland. UK membership cost £7 a year, while the fee for overseas members was £12.[2] Each member would receive a plastic membership card, a welcome letter, postcard-sized Aliens pictures, stickers and various flyers for upcoming Alien-related events. Members also received the "Facehugger" newsletter containing illustrations, information and reviews of the movies, videos, comics, fan fiction, role-playing games, model kits and Alien-related merchandise. Each member was also entitled to a 20% discount on Halcyon Aliens model kits.[2]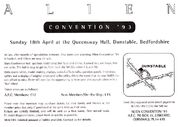 As the club continued to run, it grew slowly in popularity and even had Honorary Members such as H. R. Giger.[1] The club also hosted 2 conventions — Alien Convention '93 and Aliens Convention '99.[1] Eventually, the club ran everything through their website, and got rid of "actual membership" (having to pay), saying, "if you're an Aliens fan, then you are automatically a free member!"[3]
As the club continued to run, it began to run into problems. The first problem started as Clarke tried endlessly to secure licensing for many Alien-related material, ranging from images to a calendar the club had planned. However, all the attempts failed. Although 20th Century Fox had given the club positive remarks in the past, they decided to hit Clarke with legal action.[1]
Around December 2000, the site was temporarily suspended until "January 2001" and the message "The site will return, completely re-designed and much larger than ever before. It will also be hosted on a new, much faster and more powerful server, allowing us to include many more exciting benefits to fans, including multi-media, extensive galleries and download sections, bulletin boards, etc." was displayed.[4] However, when the site returned, it was made available for purchase for "the first offer above £250" by "a devoted fan who would wish to re-establish it as the premiere organisation for fans of the films worldwide."[5] Included in the sale was "Ownership of the www.aliensfanclub.co.uk domain name for two years", "All web graphics, pages and elements past and present associated with the domain", "The names and addresses (as a Microsoft Works database) for approx ONE THOUSAND previous members (vast majority based in UK)", "Various printed articles, photos, old newsletters, etc." and "All associated goodwill".[5]
The site's homepage was later updated to indicate that the site had been sold and that a new site was coming soon.[6] However, it seems a new site was never formed.
Honorary Members
Edit
Predator Fan ClubEdit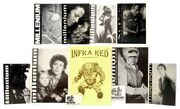 An apparently similar, but short-lived, fan club for Predator franchise fans, called the "Predator Fan Club", was also established. Information sheets and a newsletter called "Infra Red" were created, although only one issue of the newsletter was ever produced. Much like the Aliens Fan Club, the club was ultimately closed due to objections raised by 20th Century Fox.[8]
External links
Edit
References
Edit
↑ 1.00 1.01 1.02 1.03 1.04 1.05 1.06 1.07 1.08 1.09 1.10 1.11 1.12 1.13 1.14 1.15 1.16 1.17 1.18 1.19 1.20 1.21 http://weyland-yutaniarchives.blogspot.ca/2012/05/trip-down-memory-lane-uk-aliens-fan.html
↑ 2.0 2.1 2.2 Dave Hughes, Lee Brimmicombe-Wood. Aliens magazine, Vol. 2 #1, p. 43 (1992), Dark Horse International.
↑ 7.00 7.01 7.02 7.03 7.04 7.05 7.06 7.07 7.08 7.09 7.10 7.11 http://web.archive.org/web/20001202193600/http://www.aliensfanclub.co.uk/Honor.html
Ad blocker interference detected!
Wikia is a free-to-use site that makes money from advertising. We have a modified experience for viewers using ad blockers

Wikia is not accessible if you've made further modifications. Remove the custom ad blocker rule(s) and the page will load as expected.