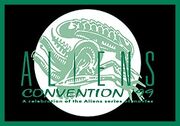 Aliens Convention '99,[1] also known as Aliens Convention 1999[1] or Aliens Fan Club Convention 1999,[2] was an Alien convention held on October 10, 1999 at the Shepperton Moat House in Middlesex, England,[1] organized by Simon and Carol Clarke, who ran the Aliens Fan Club[1] and previously organized Alien Convention '93.[3] The doors were opened at 10:00 a.m. and closed at around 7:00 p.m.[1] People that attended included Ralph Brown (Aaron in Alien3), Colette Hiller (Ferro in Aliens), Gary Gillies (Alien War), Lee Brimmicombe-Wood (Aliens: Colonial Marines Technical Manual writer) and special effects experts.[1]
The event began with an opening show of an Alien attack and Marine intervention which was then followed by films, shows, talks, questions and answers, signings, role playing, raffles, and a charity auction.[1] Harry Harris also attended the event and had The Harry Harris Aliens Collection & Archive on display.[2] An area with stalls for selling items was also at the event.[4] Jason Joiner had a stall where he had two full-size Alien Resurrection-style Aliens and many other official and (presumably) unofficial items.[4]
External links
Edit
References
Edit
↑ 1.00 1.01 1.02 1.03 1.04 1.05 1.06 1.07 1.08 1.09 1.10 1.11 1.12 1.13 1.14 1.15 1.16 1.17 1.18 1.19 1.20 1.21 http://www.alienlegend.com/Fanfare/Conventions/index.htm
↑ 3.0 3.1 http://weyland-yutaniarchives.blogspot.ca/2012/05/trip-down-memory-lane-uk-aliens-fan.html
Ad blocker interference detected!
Wikia is a free-to-use site that makes money from advertising. We have a modified experience for viewers using ad blockers

Wikia is not accessible if you've made further modifications. Remove the custom ad blocker rule(s) and the page will load as expected.