Aliens (2009 comic series)
Talk

7
Aliens, also known as Aliens: More Than Human, is a four-issue limited comic book series that was first published by Dark Horse Comics from May-December 2009. It was written by John Arcudi, illustrated by Zach Howard, inked by Mark Irwin, colored by Wes Dzioba and edited by Chris Warner, with cover art by Howard and Raymond Swanland. The comic follows a remote human colony that comes under the influence of Aliens. The series was preceded by the short-story prequel in the Aliens/Predator Free Comic Book Day Split Issue, produced by the same creative team, and did itself serve as a prequel to the six-issue series Aliens vs. Predator: Three World War.
Marking the 30th anniversary of the release of the film Alien, and released in anticipation of the 2010 film Predators, Aliens (2009 series) was the first original Aliens comic to be released since Aliens: Xenogenesis a decade earlier.
In the Aliens comics line, Aliens (2009 series) was preceded by the Aliens/Predator Free Comic Book Day Split Issue and was followed by Aliens: Fast Track to Heaven.
Publisher's Summary
Edit
#1: A group of wildcat planetary prospectors plant their flag on a distant new world, rich in land, resources . . . and mystery. Within this seemingly uninhabited planet lies the greatest archaeological discovery in history, an ancient, abandoned complex of impossible proportions carved deep within the living rock, a mind-numbing labyrinth of passages, ramps, bridges, and galleries that seems to extend limitlessly. But as the exploration of the leviathan dead city proceeds deeper and deeper, the members of the team slowly begin to lose their grip on reality. But madness gives way to fear as the explorers begin to disappear one by one. Something else lives within the necropolis, a faceless horror as deadly and merciless as space itself, a lethal terror that has waited centuries to awake... and destroy.
At long last, Dark Horse Comics heralds the return of the heavyweight champion of modern science-fiction/horror, Aliens!
#2: A strange, abandoned city of impossible scale lies ready to give up its secrets, but at what cost? Jealously guarded by a half-mad group of planetary prospectors, the labyrinthine necropolis may be a treasure trove of incomparable wealth, or a funeral complex with no exit, as an archaeological team from Earth discovers too late. But these off-planet interlopers soon become the least of the prospectors' worries, as their priceless possession offers up a monstrous surprise of murderous beasts from the darkest abyssal nightmare... and the prospectors only hope may lie in the unmarked graves of those they themselves betrayed.
#3: Untold trillions of miles from Earth, the planet Chione holds limitless treasures, ancient mysteries . . . and horrors beyond imagination. In the presence of the greatest archaeological discovery in human history, biologist David Sereda's journey of discovery becomes a desperate rescue mission as he plunges alone into a vast, maze-like necropolis to save the life of a woman trapped amidst an infestation of deadly xenomorphs. But when Sereda comes face to face with the madmen who murdered his crew — and buried him alive — he begins to doubt his quest as he realizes that for any hope of success in the midst of monsters, Sereda may need to make a deal with devils.
#4: Can an android dream? After waking from what appears to be just that, the android Sereda struggles with the idea that he may be more damaged than he originally thought. Still, whether it's simply his programming or a newly found free will, Sereda is hell bent on effecting the rescue of the woman whose voice brought him down into the bewildering maze of a seemingly endless necropolis. Most of the surviving planetary prospectors are willing to follow him into the labyrinth, but there are two major obstacles to the rescue mission: a horde of marauding xenomorphs, and the man who shot Sereda, who isn't about to let a damaged synthetic lead the other survivors anywhere.
From the bleeding edge of terror, Aliens returns to comics featuring the talented creative team of writer John Arcudi (The Mask, B.P.R.D., Doom Patrol), penciller Zach Howard (Shaun of the Dead, Outer Orbit), and inker Mark Irwin (X-Men: Age of Apocalypse, Batman). This all-new Aliens series is but the first stage in the Aliens/Predator/Aliens vs. Predator relaunch.
Reprint History
Edit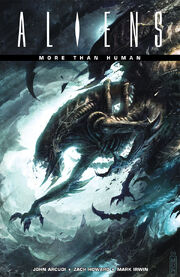 The series, along with its prologue story, was collected and released as a trade paperback under the title Aliens: More Than Human in April 2010, which reused the Swanland cover artwork from issue 4.
The comic was released digitally through Dark Horse Digital on October 12, 2012; the four individual issues were made available separately, or as a bundle.
Behind the Scenes
Edit
No stranger to the Aliens/Predator/AVP universe, veteran comics writer John Arcudi formerly wrote Aliens: Genocide, Aliens: Stronghold, Predator: Big Game, and Predator: God's Truth. In 2008 he was tapped by relaunch editor Chris Warner to be lead writer on all three relaunched books for Dark Horse Comics. Though Arcudi did write the subsequent Predator and Aliens miniseries in 2009, according to Warner in letters pages from the issues he was unable to write Aliens vs. Predator: Three World War and was replaced by original AVP writer and Dark Horse vice-president Randy Stradley.
The 2009 Aliens miniseries was released bi-monthly, much like the first-ever Aliens series in 1988, but Issue #4 came out a month late in December instead of November.
There was an effort made with the relaunch of all three of Dark Horse's Fox film franchise lines to strongly established a joint continuity between the lines and between them and all previous Dark Horse comics from the franchises--with the possible exception of the previous Predator comics, to which minimal referencing has been done.
To that extent, a prequel to the 2009 Aliens miniseries was featured in Aliens/Predator Free Comic Book Day Flip Book, and the entire series serves as a build-up to Aliens vs. Predator: Three World War, which again features Aliens 2009 protagonist David Sereda as a main character. Three World War also features the appearance of the lead character from the Dark Horse's 2009 Predator miniseries, thus firmly establishing the connectedness of all three franchises, at least in comic book form.
The story in the Free Comic Book Day flipbook establishes that these events all take place after the Alien infestation of Earth from 1989's Aliens: Book One, and the events of Three World War also connect these stories to the continuity of the existing Aliens vs. Predator comics from the 1990s.
Issue covers
Edit
External Links
Edit
The following features for each issue of Aliens (2009) are available at the Dark Horse Comics website, including a behind the scenes making of featurette for issue #1, a preview of the first three pages of each issue, and downloadable desktop images for each cover: