Aliens (1988 comic series)
Talk

4
Aliens, also known as Aliens: Book One, Aliens, Vol. 1: Outbreak and more recently Aliens: Outbreak, is a six-issue limited comic book series that was first published bi-monthly by Dark Horse Comics from July 1988-July 1989. It was the first comic in the now extensive Aliens comics line (not counting the comic adaptation of the film Alien, which was released several years previously but is not associated with Dark Horse). Originally published in black and white, the story was written by Mark Verheiden, illustrated by Mark A. Nelson and Ron Randall, inked by Nelson, lettered by Willie Schubert and edited by Randy Stradley, with cover art by Nelson. The series was released alongside the tie-in short story Aliens (1988 short story), produced by the same creative team, and was later adapted as the novel Aliens: Earth Hive by Steve Perry.
The series was originally a direct sequel to the 1986 film Aliens, directed by James Cameron, and continued the stories of Corporal (now promoted to Sergeant) Hicks and Newt. However, the release of Alien3 in 1992 led to later editions being edited in order to fit with the events of that movie. It forms part one of a three-part story arc continued in Aliens (1989 series) and concluded in Aliens: Earth War.
Released to tremendous fan response, the series became an early hit for the two-year old Dark Horse Comics and spawned an extensive line of Aliens comic books. It was published concurrently with Aliens (1988 short story), and was followed by Aliens (1989 series) a year later.
History and Alterations
Edit
Intended as a direct sequel and continuation to James Cameron's Aliens, the comic originally featured the film characters of Corporal Hicks and Newt, following their adventures after the events of the second film. However, with the release Alien3 in 1992, which featured the deaths of Hicks, Newt and Ripley, Dark Horse changed the names and therefore identities of several individuals in the story in order to keep the comic stories relevant to the Alien film franchise.
These changes first surfaced in the novel adaptation by Steve Perry, titled Aliens: Earth Hive, where Hicks became Wilks while Newt was now known as Billie. The comic itself was then edited and reprinted, under the title Aliens, Vol. 1: Outbreak, featuring these altered identities. The series was also colored, as it had originally been published in black and white. All subsequent Aliens stories that referenced the original comics would go on to use the altered names, allowing them to co-exist with the film franchise.
Publisher's Summary
Edit
Original release
Edit
#1: In deep space, a salvage crew is attacked by seemingly unstoppable monsters. The marines are called in, but they need someone with experience. Soon Hicks (the horribly scarred survivor from Aliens) and Newt (now almost eighteen) find themselves on a mission to locate and destroy the Aliens' homeworld!
#2: Hicks breaks Newt out of the mental hospital where she is being held, and the two of them, along with a crack squad of battle-hardened Marines, blast-off for the Aliens' homeworld. But is the Alien menace really as far away as Hicks believes, or is the threat closer to Earth than anyone imagines?
#3: As the ship carrying Hicks, Newt and the company of Colonial Marines nears the Aliens' Homeworld, a strange paranoia begins to grip the people of Earth. Thousands begin to suffer recurring nightmares about the Aliens, leading Dr. Orona to a terrible realization: there is already an alien — a queen — on Earth!
#4: All hell breaks loose as Hicks, Newt and the Marines arrive on the Aliens' homeworld! While back on Earth, a misguided religious fanatic frees the Alien Queen captured by the Bionational Corp.! Even if Hicks and Newt survive their mission, will there be an Earth to come home to?
#5: Hicks, Newt and their crew of Marines are finding conditions on the Alien homeworld to be more than they bargained for as they discover that there are things even the Aliens are afraid of! Meanwhile, a mad, fanatical preacher has loosed the corporation's captive Queen on an unsuspecting Earth — to force mankind into an unholy "Communion"!
#6: This is it! The dramatic conclusion to the hottest miniseries of the year! Their mission to the Aliens homeworld a costly failure, Hicks, Newt, and what's left of their Marine contingent return to Earth — only to find conditions horribly changed and mankind on the run from ravaging Alien hordes!
Aliens, Vol. 1: OutbreakEdit
Wilks was a space marine with a near-fatal flaw: he had a heart. Billie was a child, the only survivor of a far-flung colony outpost. Thrown together in the last hellish night of an Alien invasion, Billie and Wilks helped each other get out alive. Thirteen years later, Wilks is in prison and Billie lives in a mental institution, the nightmare memories of the massacre at Rim seared into her mind. Now the pair get a chance to be reunited. To go back to that outpost where it all happened, to finally end the business between themselves . . . and the Aliens.
This is the very first of the remastered Aliens trade paperbacks! Dark Horse is going back through each of its past Aliens graphic novels and revising images and text to bring the entire story into a single line of continuity with the motion pictures and the wildly popular Bantam novels.
Once a black-and-white collection, this remastered edition boasts full-color art, an updated script, a new John Bolton cover, and a gallery of never-before-seen Mark A. Nelson art! Get ready for the remastered line!
Aliens starts 10 years after Aliens and Alien3 and 190 years before Alien Resurrection. Both Wilks and Billie have been struggling with the aftermath of their encounter with the Xenomorphs. Billie is in a mental institution, and, after nothing seems to help her, the doctors decide to wipe her memory. Wilks has never gotten over the aliens and the decimation of his squad, so he agrees to go on a mission to the Alien homeworld to recover some Eggs and to destroy one of the Hives (the Hive destroying serves no purpose other than to satisfy Wilks's hatred). Wilks goes to visit Billie before he goes, only to find out that her memory is about to be wiped. Wilks believes Billie to be the only thing that marks his existence and the only thing that marks his squad's sacrifice, so he rescues her and takes her to the homeworld. Their spaceship is followed by another, though...
Meanwhile, strange things are happening on Earth. A scientific corporation has acquired an alien Queen and begins harvesting eggs. A weird cult that believes the aliens to be God's spiritual rebirth breaks in and they all give themselves up for facehugging. Earth is overrun.
On the homeworld, the team land (Billie has fallen in love with a soldier named Bueller) and are attacked by the following band of soldiers, who want the eggs for themselves. They give up their weapons and stand down, but the attackers are forced into the hive by the various other hostile species on the planet. The team gather weapons and foolishly go into the hive to rescue their attackers. They rescue a few and most of them get out, but not before the reason they so stupidly went in is revealed: they are all synthetic humans.
Billie is distraught, Bueller makes it back, but is ripped in half (revealing he is actually a synthetic) and Wilks almost kills them all by waiting until he has set the charges to take off, but they make it and go back to Earth. As soon as they get there, they have to leave, and are told by a general that they are following a standard military procedure against the aliens: they are retreating. There is a mass exodus of Earth, most of the survivors being military. Bueller, Wilks and Billie get on a ship and flee Earth.
Appearances
Edit
Characters
Newt's Psychologist
Waidslaw Orona (First Appearance)
Billie (as Rebecca Jorden) (First Appearance)
Carly (Newt's friend - in dream flashback)
Mag (Newt's friend - in dream flashback)
David Wilks (as Cpl. Dwayne Hicks) (First Appearance)
Ricco Frost (Non-Canon Appearance in dream flashback)
William Hudson (Non-Canon Appearance in dream flashback)
Tim Crowe (Non-Canon Appearance in dream flashback)
Cynthia Dietrich (Non-Canon Appearance in dream flashback)
Jenette Vasquez (Non-Canon Appearance in dream flashback)
Mark Drake (Non-Canon Appearance in dream flashback)
Perkins (Hick's military jailer)
Paranoid prisoner (Hick's cell mate)
Lyle (crewman of the US Coast Guard Probe Ship Dutton)
Lyle's crewmate
Emmett Webster (author of The Evolution of Television) (Mentioned Only)
Salvaje (First Appearance)
Maris (Salvaje's Video Tech) (First Appearance)
Newt's friend at the asylum
Didi (Newt's eye-box addicted fellow asylum dweller)
Ms. Lipka (Colonel Stephens' secretary)
Ellen Ripley (Mentioned and glimpsed in flashback)
James Likowski (Captain of the Cargo Express ship Junket)
Likowski's Co-Pilot (in dream flashback)
Likowski's mother (in dream flashback)
Likowski's lover (in dream flashback)
Acheron Colonists (in dream flashback)
Bill Jacks(son?) (Stephens' superior officer in the Special Section)
Captain Patrick Massey (corporate mercenary and Bionational Executive Assistant)
Ted Ostrow (Bionational Executive)
Horner (Bionational Executive, balding)
Massey's Wife (in flashback)
Massey's Son (in flashback)
Mitch Bueller (as Butler) (First Appearance)
Easley (one of Hicks' new unit's soldiers) (First Appearance)
Blake (one of Hicks' new unit's soldiers) (First Appearance)
Dr. Bannon (one of Newt's psychologists)
Feildcrest Home Security Guards
Feildcrest Orderly
Al Apone (Mentioned Only)
Dr. Ranier (Mentioned Only)
Patient Heerman
Heerman's mother (in dream flashback)
Dr. Morgan (Mentioned Only)
Patient Culp
Patient Duncan
Stewardess
Dr. Frankel (Mentioned Only)
Patient Lockwood
Orona's underling (female)
Dr. Byner (Bionational research doctor)
Levits (Bionational executive, Mentioned Only)
Pregnant Prostitute (with Salvaje)
K-014 Pilot (Bionational operative)
Bionational mercenaries
Eisley (one of Hicks' new unit's soldiers) (First Appearance)
Pvt. Benson (one of Hicks' new unit's soldiers) (First Appearance)
Bionational Research Scientists
Bionational Security Guards
Government Interrogator (under Orona)
Earth Queen
Salvaje's Cultists
Meeker (One of Hicks' new unit, female)
Bionational Mercenary Drop Ship Pilot
Lucain (Bionational Mercenary on floater)
Haines (Bionational Mercenary on floater)
Newt's Father Russ (Non-Canon Appearance)(in flashback)
Newt's Mother Anne (Non-Canon Appearance) (in flashback)
Newt's Brother (Non-Canon Appearance) (in flashback)
Original Space Jockey (dead body, and alive in flashbacks)
Various Human Military Personnel
Human victims: Airline Passenger, Beach Goer, Grandmother
Colonel at Orona's Weapons Cache
Guard at Orona's Weapons Cache
Creatures
Flying Lizard Alien on Xenomorph homeworld
Locations
Acheron (LV-426) (in dream and flashback)
Feildcrest Home, Ward-C
Bionational Lab, Houston
Xenomorph Homeworld
Xenomorph Homeworld Hive
Officer in Charge of Earth Evacuation
Organizations and titles
Hicks'/Wilks' New Squad
Colonel
Sargent
Corporal
Private
Vehicles and vessels
US Dutton
Cargo Express Junket
USS Benedict
Bionational K-014
Space Jockey Derelict (from Aliens)
Space Jockey Ship (First Appearance)
Earth military
Reprint History
Edit
When Aliens hit the stands in July 1988 it was met with tremendous response, leading to six reprintings in order to fulfill demand from fans.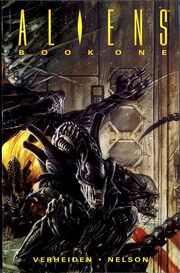 After its initial comic book run from July 1988-July 1989, the first Aliens miniseries was collected and re-released in trade paperback form in November 1989 under the title Aliens: Book One, with a new painted cover by artist Dave Dorman. The trade paperback also collected the spin-off Aliens (1988 short story), originally published in Dark Horse Presents #24. The series was collected again in June 1990 as a deluxe hard cover edition, foil stamped with a dust jacket featuring a brand new Aliens oil painting by Mark A. Nelson, again including the Aliens short story and also including all of Nelson's cover art from all previous printings of the series.
In the United Kingdom, the series was planned to be serialized and reprinted in 6 parts in Aliens magazine, Vol. 1 #12-17, from January-June 1992. However, the switch in publisher for the magazine from Trident Comics to Dark Horse International after issue 16 (May 1992) left the rerun of Book One unfinished.
In September 1993, the series was again collected for inclusion in The Compleat Aliens, a deluxe limited edition hard cover which for the first time collected all of the early Dark Horse Aliens comics into a single volume, including Aliens: Book One, Aliens: Book Two, Aliens: Earth War and Dark Horse Presents: Aliens. This slipcovered edition was Smythe-sewn and featured a foil-stamped, bonded-leather binding with specially printed end papers, and included a gallery featuring many of the collections' original covers and a signature page with new Aliens art from of the artists for the original comics and signed by many of the creators. The release was edited by Kij Johnson and limited to only 500 copies.
In August 1996, the series was again collected and released as a low cost trade paperback, but this time with edited content under the new title Aliens, Vol. 1: Outbreak. This release was part of Dark Horse's "remastered" Aliens Library Editions series — reprints that attempted to bring the content of all of Dark Horse's previously released Aliens comics in line with the updated continuity presented by Alien3. Thus, the new character names created for the 1992 novelization of the original comic (Aliens: Earth Hive by Steve Perry) were edited into the story in place of the original characters that had since died in the third film. The series was also colored for the first time, as all previous releases had been in black and white. The Outbreak trade paperback was edited by Lynn Adair and featured a new cover by John Bolton.
This version of the series, again titled Aliens: Outbreak, was finally collected as part of Aliens Omnibus: Volume 1 in July 2007.
The complete comic was released digitally, under the title Aliens: Outbreak, through Dark Horse Digital on January 9, 2013, reusing Nelson's cover art from the 1990 deluxe edition of Aliens: Book One.
The series was collected and released again on April 26, 2016 as part of Alien Day, celebrating the 30th anniversary of the release of the film Aliens. This version, titled Aliens 30th Anniversary: The Original Comics Series, was a hardcover, "oversized" (8 × 12) format collector's edition, and featured the original, unedited 1988 version of the story (including the original characters of Hicks and Newt) presented in its original black and white format. This released marked the first time the original version of the comic was made available in over 20 years.
Behind the Scenes
Edit
Series writer Mark Verheiden is a hugely influential figure in the world of Aliens, Predator and Aliens vs. Predator comics, having also written the two direct sequels to the original Aliens miniseries, Aliens: Nightmare Asylum and Aliens: Earth War, as well as the first ever Predator miniseries, along with several other core comic book stories in the Aliens and Predator lines. Aside from his contributions to those franchises, he has worked on the likes of Superman for DC Comics, and wrote the scripts for the feature films The Mask and Timecop, both of which are based on Dark Horse properties, the latter being a Verheiden creation. In recognition of his contributions to the Alien vs. Predator universe, the mercenary Mark Verheiden in the film Alien vs. Predator was named after the author.
Artist Mark A. Nelson has likewise been involved with several other Aliens projects from Dark Horse, although perhaps none as notable as the original 1988 series. In 2016, the year Dark Horse Comics celebrated its 30th anniversary, Nelson was among the artists chosen to contribute to the company's year long anniversary variant cover program, creating a special alternate cover for Aliens: Defiance #1.
Almost a decade on from the release of the original Aliens series, Dark Horse would reunite the creative team responsible for the comic — Verheiden, Nelson and editor Randy Stradley — for the short story Aliens: Lucky, produced to celebrate the company's 10th anniversary.
Issue covers
Edit
External Links
Edit