Ad blocker interference detected!
Wikia is a free-to-use site that makes money from advertising. We have a modified experience for viewers using ad blockers

Wikia is not accessible if you've made further modifications. Remove the custom ad blocker rule(s) and the page will load as expected.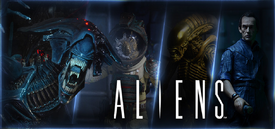 The NECA Aliens toys are an ongoing line of action figures and accessories based on the Alien franchise. While the line initially focused on figures from the 1986 film Aliens, it has since included a number of figures based on Alien and Alien3, as well as select comic books and video games in the franchise. A total of seven series have been released so far, with an eighth confirmed as being on the way, plus a range of 1/4 scale and other figures.
Despite its name, the line also includes several figures based on the Alien vs. Predator franchise, although all of these are Alien figures. Along with its Aliens toys, NECA also produces an ongoing line of Predator figures.
Aliens — Xenomorph Warrior (Blue Tint)
Craig Windrix tribute — Sergeant Craig Windrix
Aliens — Private William Hudson vs. Xenomorph Warrior (Battle Damaged) 2-pack
Aliens — Lt. Ellen Ripley
Aliens — Bishop (Severed Torso), Egg and Facehugger
Aliens: Genocide — Xenomorph Warrior
Aliens: Genocide — Xenomorph Warrior (Red)
Alien: Isolation — Amanda Ripley (In Compression Suit)
Alien: Isolation — Xenomorph
Alien3 — Ripley (In Prisoner Uniform)
Alien3 — Weyland-Yutani Commando
Alien3 — Dog Alien (Brown Tint)
Alien3 — Dog Alien (Gray Tint)
Series 10 (upcoming)
Edit
1/4 Scale figures
Edit
Alien — Big Chap (The Alien)
Aliens — 1986 Warrior
Aliens — Power Loader
Aliens — Xenomorph Queen
Aliens: Genocide — Red Queen Mother
Alien — Alien Egg (With LED lights and launching Facehugger)
Aliens — Xenomorph Egg Set in Collectible Carton
Alien — Life Size Xenomorph Egg
Aliens — Glow in the dark Alien Egg 4-pack (Loot Crate exclusive)
Kenner tribute figures — Kenner Ripley
Aliens — Rebecca "Newt" Jorden
Aliens — Lt. Ellen Ripley and Rebecca Newt Jordon 2-pack
Aliens — Corporal Dwayne Hicks and Private William Hudson 2-pack
Aliens arcade game — Xenomorph Warrior (With Egg and Chestburster)
Concept figures — Red Xenomorph Big Chap and Dog Alien 2-pack
1/4 scale figures
Edit
Other figures
Edit