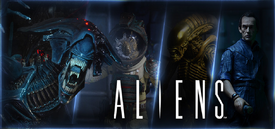 The NECA Aliens toys are an ongoing line of action figures and accessories based on the Alien franchise. While the line initially focused on figures from the 1986 film Aliens, it has since included a number of figures based on Alien and Alien3, as well as select comic books and video games in the franchise. A total of eleven series have been released so far, with a twelfth confirmed as being on the way, plus a range of 1/4 scale and other figures and accessories.
Despite its name, the line also includes several figures based on the Alien vs. Predator franchise, although all of these are Alien figures. Along with its Aliens toys, NECA also produces an ongoing line of Predator figures.
This list only covers certain action figures and excludes other Alien-related NECA accessories. Owing to the nature of this article, this list is ongoing and may not be complete.
Aliens — Xenomorph Warrior (Blue Tint)
Craig Windrix tribute — Sergeant Craig Windrix
Aliens — Private William Hudson vs. Xenomorph Warrior (Battle Damaged) 2-pack
Aliens — Lt. Ellen Ripley
Aliens — Bishop (Severed Torso), Egg and Facehugger
Aliens: Genocide — Xenomorph Warrior
Aliens: Genocide — Xenomorph Warrior (Red)
Alien: Isolation — Amanda Ripley (In Compression Suit)
Alien: Isolation — Xenomorph
Alien3 — Ripley (In Prisoner Uniform)
Alien3 — Weyland-Yutani Commando
Alien3 — Dog Alien (Brown Tint)
Alien3 — Dog Alien (Gray Tint)
Series 10
Edit
Series 11
Edit
1/4 Scale figures
Edit
Alien — Big Chap (The Alien)
Aliens — 1986 Warrior
Aliens — Power Loader
Aliens — Xenomorph Queen
Aliens: Genocide — Red Queen Mother
Kenner tribute figures — Kenner Ripley
Aliens — Rebecca "Newt" Jorden
Aliens — 30th Anniversary Deluxe creature pack
Aliens — Lt. Ellen Ripley and Rebecca Newt Jordon 2-pack
Alien — Fossilized Space Jockey (Foam replica)
Aliens — Corporal Dwayne Hicks and Private William Hudson 2-pack
Aliens arcade game — Xenomorph Warrior (With Egg and Chestburster)
Concept figures — Red Xenomorph Big Chap and Dog Alien 2-pack
Batman/Aliens — Batman and Joker Alien 2-pack
Kenner tribute figures — Private Jenette Vasquez
Alien: Covenant — Xenomorph
Alien: Covenant - Neomorph (with bloodburster)
Original creation/SDCC exclusive - Sewer Mutation Warrior Alien
The Sewer Mutation Warrior Alien may be a possible reference to the Pizza monsters from the 1987 cartoon Teenage Mutant Ninja Turtles, both being yellow creatures residing in a sewer. The Pizza monsters themselves acted as a homage to the Xenomorph.
1/4 scale figures
Edit
Other figures
Edit