Ad blocker interference detected!
Wikia is a free-to-use site that makes money from advertising. We have a modified experience for viewers using ad blockers

Wikia is not accessible if you've made further modifications. Remove the custom ad blocker rule(s) and the page will load as expected.
Aliens, also known as Aliens: Theory of Alien Propagation, is a comic book short story that was first published by Dark Horse Comics in the anthology series Dark Horse Presents, Vol. 1 #24, in November 1988. Originally published in black and white, the story was written by Mark Verheiden and Mark A. Nelson, illustrated, inked and lettered by Nelson and edited by Randy Stradley. The issue of Dark Horse Presents also featured Aliens cover art by Nelson. The comic serves as a tie-in to the four-issue series Aliens (1988 series), produced by the same creative team.
In the Aliens comics line, Aliens (1988 short story) was published concurrently with Aliens (1988 series), and was followed by Aliens (1989 series).
Publisher's Summary
Edit
Writer Mark Verheiden and artist Mark A. Nelson present an all-new "side bar" story to Dark Horse's ongoing Aliens miniseries as they take us inside the mind of an Alien Queen!
The story is written in the form of an in-universe report by Aliens: Book One character Dr. Waidslaw Orona on the reproductive cycle of the Xenomorph, with accompanying imagery of Alien life and development. It shows Xenomorphs spreading via the impregnation of humans and other alien species, and also documents the creatures building one of their Hives, all accompanied by excerpts from Orona's report.
Reprint History
Edit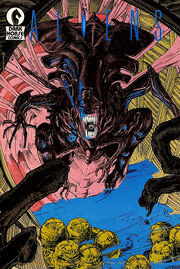 Shortly after its publication in Dark Horse Presents #24, the Aliens short story was given a stand-alone release as a mini-comic, published in February 1989. This edition featured new cover art by Mark A. Nelson and also included seven plates by Nelson showcasing Aliens artwork.
The short story was later collected as part of Aliens: Book One, a trade paperback re-release of the original Aliens comic, published in November 1989. A deluxe hard cover edition of Aliens: Book One, again including the Aliens short story, was released in June 1990.
In April 1992, the short story was collected alongside a number of other Aliens short stories published in Dark Horse Presents up to that point in the Dark Horse Presents: Aliens trade paperback. Here the story was given the new title Aliens: Theory of Alien Propagation and was colored by Chris Chalenor. The issue featured a new cover by Simon Bisley.
In the United Kingdom, the colored version was again reprinted in Aliens magazine, Vol. 1 #17, in June 1992.
Aliens: Theory of Alien Propagation was again collected as part of Aliens Omnibus: Volume 1 in July 2007.
The comic was released digitally through Dark Horse Digital on February 13, 2013, collected with Aliens: The Alien and reusing John Bolton's cover art from Aliens, Vol. 2: Nightmare Asylum.
The comic was collected and released again as part of Aliens 30th Anniversary: The Original Comics Series, released on April 26, 2016 as part of Alien Day. This version was a hardcover, "oversized" (8 × 12) format collector's edition, featuring the original, unedited 1988 version of the first ever Aliens comic series (including the original characters of Hicks and Newt). The collection also included a second related short story, Aliens: Lucky, along with a pin-up gallery of the original issue cover artwork, a foreword by Verheiden, an afterword by Nelson and a selection of Nelson's original pitch artwork. All three comics were presented in black and white, with Lucky being specially converted from its original color format for this release.
Behind the Scenes
Edit
The creative team of writer Mark Verheiden, artist Mark A. Nelson and editor Randy Stradley was the same that had produced the original Aliens miniseries, to which the short story acts as a tie-in.
The comic is notable as one of the few Aliens stories to depict an alien species other than the Xenomorphs. Other notable non-Xenomorph aliens featured in the franchise include the Reapers from Aliens: Reapers, the reptilian Xenomorph-eating alien from Aliens: Taste, the alien pilot shown in Aliens: Earth Angel, the hunting village aliens from Aliens: Alien, the extraterrestrial scientists in Aliens: Incubation, the alien monkeys in Aliens: Fire and Stone and, of course, the Predators and Engineers.
External links
Edit