Aliens: Steel Egg
Talk

2
1,994pages on
this wiki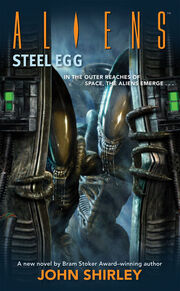 Aliens: Steel Egg
is a fictional novel in the Aliens universe written by the Bram Stoker Award-winning author John Shirley. The book is soft cover, it has 270 pages and was published in 2007.
Publisher's Summary
Edit
Someone on Earth knew about the aliens. Someone battled them, and survived. Before Ripley, there was a first encounter. Aliens and humans have fought before! When a human spaceship discovers a vast egg-shaped vessel in Saturn's orbit, the crew powers in to investigate. Thinking the ship might contain usable metal for Earth, they force their way aboard. Three teams split up to explore the ship. But already the aliens have awoken. The first of all the battles unfolds.
Appearances
Edit
Characters
Creatures
Locations
Organizations and titles
Sentient species
Vehicles and vessels
Weapons and technology
There is a reference in the book that the assault rifles are called the m-270 and there are 270 pages in the book.