Aliens: Salvation
Talk

0
2,624pages on
this wiki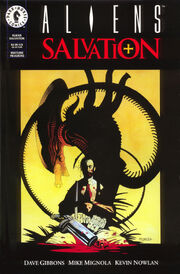 Aliens: Salvation is a one-shot comic book published by Dark Horse Comics in November 1993. The story was created by writer Dave Gibbons, penciller Mike Mignola and inker Kevin Nowlan. It was lettered by Clem Robbins, colored by Matt Hollingsworth and edited by Anina Bennett and Ryder Windham. Mignola also provided cover art.
The story was collected with the one-shot Aliens: Sacrifice and released in trade paperback form as Aliens: Salvation and Sacrifice in March 2001, edited by Chris Warner. It was later collected as part of Aliens Omnibus: Volume 3 in March 2008.
In the Aliens comics line, the story was published concurrently with Aliens: Colonial Marines (January 1993-July 1994), Aliens: Crusade (July 1993-March 1994), Aliens: Labyrinth (September 1993-January 1994), and Aliens: Cargo (November-December 1993). It followed by Aliens: Music of the Spears (January-April 1994).
Publisher's summary
Edit
Selkirk, a God-fearing crewman aboard the space freighter Nova Maru, is forced at gunpoint to abandon ship with his captain. They crash-land on a small planet, but it is soon apparent that they have not entirely escaped the Nova Maru's dreadful cargo. Dave Gibbons' tale is fully realized by artists Mike Mignola and Kevin Nowlan.
External links
Edit