Aliens (1989 comic series)
Talk

7
Aliens, also known as Aliens: Book Two, Aliens, Vol. 2: Nightmare Asylum and more recently Aliens: Nightmare Asylum, is a four-issue limited comic book series that was first published by Dark Horse Comics from August 1989-May 1990. It was written by Mark Verheiden, illustrated by Den Beauvais and Roger Casselman, inked and colored by Beauvais, lettered by Bob Pinaha and J. David Jackson, and edited by Randy Stradley, with cover art by Beauvais. The comic was later adapted as the novel Aliens: Nightmare Asylum by Steve Perry.
The series was originally a sequel to the 1986 film Aliens, directed by James Cameron, and continued the stories of Corporal (now promoted to Sergeant) Hicks and Newt. However, the release of Alien3 in 1992 led to later editions being edited in order to fit with the events of that movie. It forms part two of a three-part story arc started in Aliens (1988 series) and concluded in Aliens: Earth War.
In the Aliens comics line, Aliens (1989 series) was preceded by Aliens (1988 series) and was followed by Aliens: Earth War.
History and Alterations
Edit
Intended as a direct sequel and continuation to James Cameron's Aliens, the comic originally featured the film characters of Corporal Hicks and Newt, following their adventures after the events of the second film. However, with the release Alien3 in 1992, which featured the deaths of Hicks, Newt and Ripley, Dark Horse changed the names and therefore identities of several individuals in the story in order to keep the comic stories relevant to the Alien film franchise.
These changes first surfaced in the novel adaptation by Steve Perry, titled Aliens: Nightmare Asylum, where Hicks became Wilks while Newt was now known as Billie. The comic itself was then edited and reprinted, under the title Aliens, Vol. 2: Nightmare Asylum, featuring these altered identities. All subsequent Aliens stories that referenced the original comics would go on to use the altered names, allowing them to co-exist with the film franchise.
Publisher's Summary
Edit
Original release
Edit
#2: The world goes mad for Hicks and Newt. In their desperate attempt to escape an Earth overrun with Aliens, their ship lands at a top secret Marine Base where a crazed General is attempting to train Aliens for use in battle!
#4: Newt and Hicks join with the survivors of General Spear's army of Marines in a desperate attempt to reclaim the Earth from the Aliens, but it is an effort that seems to be doomed from the start! However, help comes from an unexpected quarter in this spectacular conclusion to one of the most popular miniseries of the year!
Aliens, Vol. 2: Nightmare AsylumEdit
Wilks, Billie, and Bueller were the last survivors of a devastating assault on the aliens' home planet. But their return to the solar system made them refugees once more, fleeing earth and its alien infestation in a desperate attempt to stay alive. Now, in an otherwise unmanned military transport, they hurtle through space, destination: unknown, while in the cargo hold they carry with them a legacy of death they thought they'd left behind!
The story continues where the first Aliens comic left off, with Sergeant Wilks, Billie and the damaged synthetic Bueller a short time after having escaped the alien-infested Earth on a cargo ship. The crew discovers the ship is ferrying aliens to an unknown destination.
After killing the aliens, the ship autopilots to a military post commanded by General Spears, who is breeding and attempting to train aliens to fight against their own kind on Earth. He is depicted as ruthless, and is called insane by several characters. Throughout the story it is revealed that Spears is extremely paranoid about his own safety and the safety of his aliens, and is willing to sacrifice his own troops without hesitation.
As the story progresses, the aliens inevitably escape captivity and begin taking over the military base. Wilks and Billie manage to hide on the same ship General Spears uses to escape. Once aboard the ship Wilks and Billie realize it is full of "trained" aliens that Spears intends on using to take back the infested Earth. The synthetic Bueller also manages to send a transmission saying goodbye to Billie as they were separated in the middle of the story. Since Bueller is a synthetic and torn in two the aliens do not engage him in any way. Bueller is left alone and abandoned in the military base.
Before Spears lands on Earth Wilks and Billie jettison out in a small escape pod towards a different space station, aware that their chances of survival on Earth are slim. Once Spears lands on Earth he releases his "trained" aliens and expects them to attack the Earth-bred aliens. The "trained" aliens end up turning on Spears. In the end Spears realizes that the aliens were never actually trained, but simply remaining patient throughout their supposed training. The Queen and the other aliens had every intention of getting to Earth and killing Spears. Spears is brutally killed at the end of this realization.
Appearances
Edit
Humans

David Wilks (as Cpl. Dwayne Hicks)
Billie (as Rebecca Jorden)
Mitch Beuller (as Butler)
Alien Cultist (in video feed)
Charlotte survivor (in video feed)
Man from Charlotte
Mawell (Soldier at base)
Dowling (Soldier at base)
Base Commander General T. Spears
Lt. Eugene Powell (Spears' second-in-command)
Lt. Bainbridge (previous second-in-command, Mentioned Only)
Harker (Soldier at base)
Daddy (Earth survivor)
Amy(Earth survivor, Daughter)
Ricky (her brother, Mentioned Only)
Renus (mutinous soldier, leader)
Dr. Fowler (scientist, Mentioned)
Sargeant Decker (Mentioned Only)
Bobby (Sentry on the Northern Access Tier)
Goins (mutinous soldier)
North (mutinous soldier, female)
Lt. Powell's underling
Waidslaw Orona (Mentioned Only)
Spears' underling
Base Communications Officer
Robinson (soldier, Mentioned)
Terraforming Colonists
Ray (Earth survivor, Camera Man)
First Insurance Plaza Alien Cultist Leader
Sgt. Kellner (Mentioned)
Spicer (soldier, Spears' transport driver/flame torch operator)
Soldier Guarding Hicks/Newt 1
Soldier Guarding Hicks/Newt 2
Ripley Synthetic (originally Ellen Ripley, cameo)
Locations

Spears' Secret Base
Docking Bay
Officer's Mess
Main Communications Room
Breeding Center*
Xenomorph Testing Lab
Civilian Terraforming Colony
First Insurance Plaza
Acheron (LV-426) (Mentioned Only)
Base Control Room
McCarthur Hold, Cockpit, Main Communications Station
Gateway Station
Organizations

Colonel
Sergeant
Corporal
Private
Base Commander
General
Lieutenant
Second Level Supply Officer
Mess Sergeant
USS The American 302
USS The McCarthur 583
USS Benedict (Mentioned Only)
USS Sulaco (Mentioned Only)
Spears' Colony Land Tractor
Earth Military Flying Vehicles
Spears' Ground Transport tank
McCarthur Escape Pod
Reprint History
Edit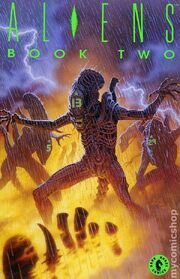 Unlike many Aliens series, the second Aliens comic was quite slow in being released in a mass-market form. After its initial comic book run from August to May 1990, the comic was collected as a deluxe limited hardcover edition featuring an embossed hardcover with artwork by Den Beauvais and Smythe-sewn binding, released in September 1990 under the title Aliens: Book Two. Beauvais also created an all-new painting for the illustrated dust jacket, as well as designing special endpapers. Also included were an all-new, full-color painting by Beauvais which serves as a bound-in signature plate signed and numbered by both the author and artist. This 112-page volume was limited to 2,500 copies.
In the United Kingdom, the series was serialized and reprinted in 6 parts in Aliens magazine, Vol. 1 #1-6, from February-July 1991.
In September 1993, the series was again collected for inclusion in The Compleat Aliens, a deluxe limited edition hardcover which for the first time collected all of the early Dark Horse Aliens comics into a single volume, including Aliens: Book One, Aliens: Book Two, Aliens: Earth War and Dark Horse Presents: Aliens. This slipcovered edition was Smythe-sewn and featured a foil-stamped, bonded-leather binding with specially printed end papers, and included a gallery featuring many of the collections' original covers and a signature page with new Aliens art from the artists of the original comics and signed by many of the creators. The release was edited by Kij Johnson and limited to only 500 copies.
In October 1996, the series was finally collected and released by itself as a low-cost trade paperback, but in a content-edited form and under the new title Aliens, Vol. 2: Nightmare Asylum. This release was part of Dark Horse's "remastered" Aliens Library Editions series — reprints that attempted to bring the content of all of Dark Horse's previously released Aliens comics in line with the updated continuity presented by Alien3. Thus, the new character names created for the 1992 novelization of the original comic (Aliens: Earth Hive by Steve Perry) were edited into the story in place of the original characters that had since died in the third film. The Nightmare Asylum trade paperback was edited by Lynn Adair and featured a new cover by John Bolton and new lettering by Willie Schubert.
This version of the series, again titled Aliens: Nightmare Asylum, was finally collected as part of Aliens Omnibus: Volume 1 in July 2007.
The complete comic was released digitally through Dark Horse Digital on January 30, 2013, reusing Beauvais' cover art from Aliens: Book Two.
Behind the Scenes
Edit
As with its predecessor, the second Aliens series was written by Mark Verheiden. Considered a hugely influential figure in the Aliens, Predator and Aliens vs. Predator comics lines, Verheiden also wrote the direct sequel to the miniseries, Aliens: Earth War, as well as the first ever Predator miniseries, along with several other core comic book stories in the Aliens and Predator lines. Aside from his contributions to those franchises, he has worked on the likes of Superman for DC Comics, and wrote the scripts for the feature films The Mask and Timecop, both of which are based on Dark Horse properties, the latter being a Verheiden creation. In recognition of his contributions to the Alien vs. Predator universe, the mercenary Mark Verheiden in the film Alien vs. Predator was named after the author.
Several ideas from the comic were later prominently recycled in other media in the Alien franchise. For example, Xenomorphs killing one of their own and using the dead creature's acid blood to escape a contained area, as happens aboard the cargo ship near the beginning of the story, was later used by the Cloned Xenomorphs in Alien Resurrection. Similarly, the manner in which Spears marks his trained Xenomorphs on the head with identifying numbers reappeared in the 2010 video game Aliens vs. Predator, in which the Xenomorph protagonist, Specimen 6, was identified with a number branded on its forehead.
The Xenomorph Hives seen on Earth towards the end of the comic greatly resemble H. R. Giger's concept art for the Egg Silo, a structure cut from Alien during the film's development.
Beauvais' cover for issue 4 of Aliens (1989 series) is one of the most reused pieces of cover art in the Aliens comics franchise, having also been used on Aliens magazine, Vol. 1 #2 and issue 1 of the collected version of Aliens: Countdown, also published with Aliens magazine.
Issue covers
Edit
References
Edit
External Links
Edit