"AVAILABLE DATA INSUFFICIENT"

This article is a stub or needs expansion. Help Xenopedia by expanding it.

Aliens: Inhuman Condition is a six-part comic book story that was first published by Dark Horse Comics in the anthology series Dark Horse Presents, Vol. 2 #12-17, from May-October 2012. The issues of Dark Horse Presents were also published simultaneously in the digital format via Dark Horse Digital. The story was written by John Layman, illustrated and inked by Sam Kieth, colored by Kieth and John Kalisz, lettered by Layman and edited by Chris Warner. Issue #12 of Dark Horse Presents also featured an Aliens cover by Keith.
In the Aliens comics line, Aliens: Inhuman Condition was preceded by Aliens: Fast Track to Heaven, published concurrently with Aliens: Colonial Marines (2012 comic), and was followed by Alien: Isolation.
Publisher's Summary
Edit
Collected edition
Edit
On a distant, frozen world, "artificial persons" are manufactured in discreet seclusion. With formidable new security synthetics coming online, how better to test their mettle than against a hive of deadly Xenomorphs? But as Socialization Specialist Jean DuPaul sees her ever-more-human android charges sent to their destruction, she learns that the most savage species in the universe is man. Collects stories from DHP #12-#17.
Reprint History
Edit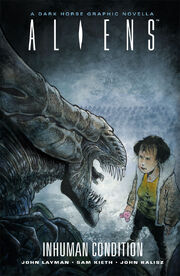 Aliens: Inhuman Condition was collected and released as a hardcover graphic novella published by Dark Horse Books in April 2013. The novel featured a new cover by Sam Kieth and edited by Chris Warner and Daniel Chabon.
The graphic novella was released digitally through Dark Horse Digital on May 1, 2013, reusing Kieth's cover art from the collected edition.
Inhuman Condition was the first ever Aliens/Predator/Aliens vs. Predator comic to see a digital release though Dark Horse Digital.
The comic also marked the return of Aliens to the long-running anthology series Dark Horse Presents, after an absence of over a decade.