"AVAILABLE DATA INSUFFICIENT"

This article is a stub or needs expansion. Help Xenopedia by expanding it.
Specific Expansion Needed: Plot section required
Aliens: Female War, originally titled Aliens: Earth War and also known as Aliens, Vol. 3: Female War, is a four-issue limited comic book series that was first published by Dark Horse Comics from June-October 1990. It was written by Mark Verheiden, illustrated and inked by Sam Kieth, colored by Monika Livingston, lettered by Pat Brosseau and edited Diana Schutz, with cover art by John Bolton. The comic was later adapted as the novel Aliens: The Female War by Steve Perry and Stephani Perry.
The series is one of the few Aliens, Predator and Aliens vs. Predator comic books to serve as a direct sequel to an earlier story. Specifically, it continues where the previous series, Aliens: Nightmare Asylum, left off. It originally acted as a continuation of the 1986 film Aliens, featuring the characters of Hicks, Newt and Ripley, but following the release of Alien3 in 1992, later editions have been edited in order to fit with the events of that movie.
In the Aliens comics line, Aliens: Female War was preceded by Aliens: Nightmare Asylum, published concurrently with Aliens: Advent/Terminus and Aliens: Countdown, and was followed by Aliens: Reapers. The non-Dark Horse comic Do Aliens Dream? was also released concurrently, although it is not considered a part of the line.
History and Alterations
Edit
Intended as a direct sequel and continuation to James Cameron's Aliens, the comic originally featured the film characters of Corporal Hicks, Newt and Ellen Ripley, following their adventures after the events of the second film. However, with the release Alien3 in 1992, which featured the deaths of Hicks, Newt and Ripley, Dark Horse changed the names and therefore identities of several individuals in the story in order to keep the comic stories relevant to the Alien film franchise.
These changes first surfaced in the novel adaptation by Steve Perry and S. D. Perry, titled Aliens: The Female War, where Hicks became Wilks, Newt was now known as Billie and Ripley became a synthetic version of herself. The comic itself was then edited and reprinted, under the title Aliens, Vol. 3: Female War, featuring the altered identities of Wilks and Billie. However, confusingly, Ripley remained the same human character as she had been in the original release (likely because changing her to a synthetic would require a significant expansion/alteration of the comic way beyond simply rewriting names). As such, even the current edited versions of the comic book offer no explanation as to how Ellen Ripley could still be alive post-Alien3. Only the novel includes the extra material regarding the discovery that she is an android duplicate, and her subsequent struggles with this revelation.
Despite the discrepancies in how Female War was edited, all subsequent Aliens stories that referenced the original comics would go on to use the altered names and identities, allowing them to co-exist with the film franchise.
Publisher's Summary
Edit
Original release
Edit
#1: The Aliens still dominate the Earth, but Hicks and Newt are determined to free the planet — no matter the cost! Now, they are not alone in their struggle. An old friend and comrade comes out of hiding to aid them in their struggle, but will that be enough to win the day?
#2: Newt joins Ripley's crew as they set off from Gateway Station. Their mission: to trap the Alien Queen Mother... and bring her back to Earth! Meanwhile, on Earth, humans are still being terrorized by the Alien infestation — and worse, it looks like the planet is somehow starting to change, to reform, but into what?
#3: This issue we're in for lots of female trouble when Ripley and her crew travel to the Aliens' home planet in an effort to capture the Alien Queen Mother. Her highness has other plans, however, as she sends her "babies" to take out Ripley's team, leaving the two species' feistiest females to battle it out one-on-one! Meanwhile, the armored personnel carrier, which has transported the crew to the Alien hive, is headed for a nuclear meltdown — leaving our team stranded on the planet with no way to return to their ship!
#4: All the stops are out! Ripley and her crew transport the Alien Queen Mother to Earth and prepare themselves for the final showdown. While Ripley is rigging bombs for a major meltdown of both the planet and its alien infestation, Newt is stealing away to try to save the life of a lone little girl. With the clock ticking down, Newt is lost inside a mountain teeming with the alien horde — and Ripley finds herself exactly where she wants to be: face-to-face with her highness!
Aliens, Vol. 3: Female WarEdit
Billie only wanted what all children want — the warmth and security of family, the human connectedness that comes from belonging. What she got was a nightmare without end. Dark Horse is proud to present the third volume in the remastered Aliens series, Aliens: Female War. Written by The Mask screenplay writer Mark Verheiden and illustrated by The Maxx artist/creator Sam Kieth, Female War is a revised edition of what was previously titled Aliens: Earth War.
Reprint History
Edit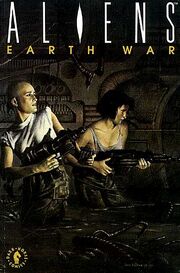 After its original comic book run as Aliens: Earth War from June-October 1990, the miniseries was collected and released in a trade paperback version in July 1991 with a new cover by John Bolton. This was followed by a second, limited edition collected release in December 1991 with the same cover.
Meanwhile, in the United Kingdom, Earth War was serialized and reprinted in 6 parts in Aliens magazine, Vol. 1 #7-12, from August 1991-January 1992.
In September 1993, the series was again collected for inclusion in The Compleat Aliens, a deluxe limited edition hard cover which for the first time collected all of the early Dark Horse Aliens comics into a single volume, including Aliens: Book One, Aliens: Book Two, Aliens: Earth War and Dark Horse Presents: Aliens. This slipcovered edition was Smythe-sewn and featured a foil-stamped, bonded-leather binding with specially printed end papers, and included a gallery featuring many of the collections' original covers and a signature page with new Aliens art from of the artists for the original comics and signed by many of the creators. The release was edited by Kij Johnson and limited to only 500 copies.
In 1996, the story was edited and re-released under the title Aliens, Vol. 3: Female War. This release was part of Dark Horse's "remastered" Aliens Library Editions series — reprints that attempted to bring the content of all of Dark Horse's previously released Aliens comics in line with the updated continuity presented by Alien3. Thus, the new character names created for the 1992 novelization of the original comic (Aliens: Earth Hive by Steve Perry) were edited into the story in place of the original characters that had since died in the third film. Female War was edited by Lynn Adair and featured a new cover by Bolton.
The series received its current title, Aliens: Female War, when the edited version was collected as part of Aliens Omnibus: Volume 1 in July 2007.
Aliens: Female War was released digitally through Dark Horse Digital on February 6, 2013, reusing Bolton's cover art from Aliens, Vol. 3: Female War.
Behind the Scenes
Edit
As with its two predecessors, Earth War was written by Mark Verheiden. Considered a hugely influential figure in the Aliens, Predator and Aliens vs. Predator comics lines, Verheiden also wrote Predator: Concrete Jungle, the first ever Predator comic, along with several other core comic book stories in the Aliens and Predator lines. Aside from his contributions to those franchises, he has worked on the likes of Superman for DC Comics, and wrote the scripts for the feature films The Mask and Timecop, both of which are based on Dark Horse properties, the latter being a Verheiden creation. In recognition of his contributions to the Alien vs. Predator universe, the mercenary Mark Verheiden in the film Alien vs. Predator was named after the author.
Earth War was the first Aliens comic to have a distinct subtitle; the previous three comics had simply been called Aliens (although they have since been renamed and given subtitles of their own, to help differentiate them).
Issue covers
Edit
External Links
Edit
Ad blocker interference detected!
Wikia is a free-to-use site that makes money from advertising. We have a modified experience for viewers using ad blockers

Wikia is not accessible if you've made further modifications. Remove the custom ad blocker rule(s) and the page will load as expected.