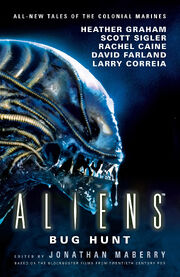 Aliens: Bug Hunt is an upcoming 2017 anthology novel set to be published by Titan Books. The book will contain 18 short stories by different writers that all focus on the Colonial Marines.[1] Authors who will contribute include Brian Keene, Christopher Golden, Dan Abnett, David Farland, Heather Graham Pozzessere, James A. Moore, Jonathan Maberry, Keith DeCandido, Larry Correia, Matt Forbeck, Mike Resnick, Paul Kupperberg, Rachel Caine, Ray Garton, Scott Sigler, Tim Lebbon, Weston Ochse and Yvonne Navarro.[1] It is due to be released in April 2017.[2]
References
Edit
↑ 1.0 1.1 "Daily Dead - Aliens: Bug Hunt Anthology Book Announced, Authors Include Brian Keene, Tim Lebbon, Yvonne Navarro". Retrieved on 2016-06-02.
↑ "Titan Books - Rights Guide, Fiction". Retrieved on 2016-10-31.
Ad blocker interference detected!
Wikia is a free-to-use site that makes money from advertising. We have a modified experience for viewers using ad blockers

Wikia is not accessible if you've made further modifications. Remove the custom ad blocker rule(s) and the page will load as expected.