Aliens/Predator Free Comic Book Day
Talk

0
2,508pages on
this wiki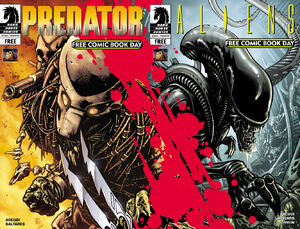 The
Aliens/Predator Split Issue
(aka
Aliens/Predator Free Comic Book Day 2009 Split Issue,
or
Free Comic Book Day 2009 Aliens/Predator Split Issue
) was a special comic book published by
Dark Horse Comics
in May 2009 to commemorate the Free Comic Book Day 2009 event on May 2, 2009. It was produced in flip-book format with a different cover and story making up each side/half of the book.
Both stories were written by veteran Aliens/Predator/AVP writer John Arcudi. The Aliens story was drawn by Zach Howard, inked by Mark Irwin and colored by Brad Anderson. The Predator story was illustrated by Javier Saltares and colored by Wes Dzioba. The issue was edited by Chris Warner and featured covers by Howard and Anderson.
A second version of the issue was released shortly afterward to commemorate the 30th Anniversary of the release of the film Alien featuring an alternate cover by Warner and colored by Dzioba.
The Aliens/Predator Split Issue marked the relaunch of both of Dark Horse's Aliens and Predator comics series after a ten-year hiatus and featured prequel stories to the subsequent 2009 series for both titles, produced by the same creative teams.
It was followed by the new miniserieses Aliens (May-Dec. 2009) and Predator (June 2009-Jan. 2010). These were in turn followed by the miniseries Aliens vs. Predator: Three World War (Jan-Sept. 2010).
Official Description
Edit
Free Comic Book Day heralds the relaunching of two of the quintessential Dark Horse movie-to-comics franchises, the Fox blockbusters Aliens and Predator. Featuring a flip-book format with two covers and two stories, each devoted to one of mankind's deadliest adversaries, Aliens/Predator opens the airlock to a new universe of terror!
A recap of Aliens comics line up to this point, including a recap of the Alien' infestation of the Earth as seen in Aliens: Book I and Aliens: Earth War and an introduction to the lead characters of the 2009 Aliens limited series.
An introduction to the East African Predator incursion featured in the subsequent Predator miniseries.
Behind the Scenes
Edit
Started in 2002, Free Comic Book Day is a day when comics publishers produce special promotional issues of their series for free distribution at comic book stores throughout the country. An annual promotional effort by the North American comic book industry to help bring new readers into independent comic book stores, it is coordinated by the industry's single large distributor, Diamond Comic Distributors. The day is usually also associated with the national release of a comic-book-related movie.
Comments from Chris Warner
Edit
From a Chris Warner interview:
Chris Warner – "I had hands in all three series creatively back in the day, and it's great to see them getting back into comics in a big way. I'm excited to be working with artist Zach Howard again [on 'Aliens']. I think Zach's one of the best guys out there, and he's not widely 'discovered' yet. But he will be."
Comments from Zach Howard
Edit
From Zach Howard's interview with the AvPGalaxy website:
AvPGalaxy – I realise you can't talk much about the story of the comic, but in one of the pieces of art you have released, it looks like Aliens are attacking New York or San Francisco...?
Zach Howard – Yeah, that's page three from the [Free Comic Book Day] story. It's basically a recap of past books and John (the writer) just chose an American landmark. So San Francisco it is! It's a fun page – nothing like drawing Aliens chomping down on folks.
Sample art from the flip book from Howard's deviantart.com page:
External Links
Edit