Alien vs. Predator: Sand Trap
Talk

0
2,617pages on
this wiki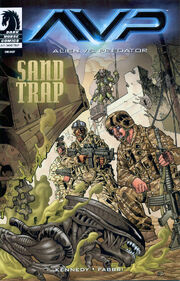 Alien vs. Predator: Sand Trap
was a limited one-shot comic book story published by
Dark Horse Comics
in October 2007 exclusively for inclusion in the limited edition
AVP Ultimate Showdown Collectors Set
from
20th Century Fox Home Entertainment
released in November 2007. Coinciding with the release of the feature film,
Aliens vs. Predator: Requiem
, the standalone 22 page-tale was not offered for individual sale or through other retail outlets. The story was written by
Mike Kennedy
, drawn by
Davide Fabbri
, inked by Christian Dalla Vecchia, colored by Michelle Madsen, lettered by Michael David Thomas and edited by
David Land
.
Katie Moody
was assistant editor and the comic featured a cover by Fabbri, Dalla Vecchia and Madsen.
The story features Aliens and Predators battling soldiers during the Iraq War.
In the AVP comics line, AVP: Sand Trap was followed by the similar limited-release DVD-set comic Alien vs. Predator: Dead Space in 2008.
Official description from Dark Horse press release:
An unfortunate desert platoon gets more war than they bargained for when they unwittingly end up in the middle of a battle where the warriors are not human. The soldiers soon discover that this chaotic region has proven to be an ideal hunting ground for the Predators' latest conquest, and even Blackwater was no match for the forces unleashed in the thrill of the game. Will the new squad fare any better than the band of brothers before them? In space, nobody can hear you scream. On Earth, it won't matter.
Official description from Mike Kennedy's website:
A weary band of brothers serving time in a dust-ridden desert war, sometime around now... Its not a popular war, but lots of people want a piece of it, and they're willing to kill however many civvies it takes to send a message. But this squad's just pulling duty for Uncle Sam and a scholarship. They just wants to make it home in time for cornflakes, that's all. And when they stumble over a monstrous fight they have no business interfering with, the cornflakes aren't that important anymore...
Behind the Scenes
Edit
In addition to AVP: Sand Trap, Chicago-based comic book and video game writer Mike Kennedy also wrote all three other AVP-movie-related comics for Dark Horse including the tradepaperbacks Alien vs. Predator: Thrill of the Hunt (2004), Alien vs. Predator 2: Civilized Beasts (2007), and Alien vs. Predator: Dead Space (2008).
These four comics basically constitute a separate sideline of "Alien vs. Predator" (as opposed to the normal spelling of "Aliens vs. Predator") comics from Dark Horse with Kennedy as writer, and were the only new Aliens, Predator or AVP comics produced by the company throughout the 2000s.
In addition to AVP: Sand Trap, the AVP Ultimate Showdown Collectors Set included every film from the Alien and Predator franchises in a two-disc version (fifteen discs total), exclusive collectible Alien and Predator figurines, and two tickets to see Aliens vs. Predator: Requiem, which was released on December 25, 2007. The AVP Ultimate Showdown Collectors Set was limited to 10,000 pieces for worldwide distribution and was available in the U.S. on November 27, 2007, only at Best Buy.
Apparently there is an "exclusive period" which needs to expire before this comic can be released on a wider scale by Dark Horse Comics.
External Links
Edit
Black and white sample pages of Davide Fabbri's AVP: Sand Trap artwork on Mike Kennedy's blog