Alien vs. Predator: Fire and Stone
Talk

0
Alien vs. Predator: Fire and Stone is a four-issue limited comic book series that was first published by Dark Horse Comics from October 2014-January 2015. It was also published simultaneously in the digital format via Dark Horse Digital. The story was written by Christopher Sebela, illustrated, inked and colored by Ariel Olivetti, lettered by Nate Piekos and edited by Daniel Chabon and Ian Tucker, with cover art by E. M. Gist. Mike Mignola also provided a variant cover for the first issue. It follows events aboard the Kamados as a mutated Elden, in control of a group of Aliens, tries to find Francis while Predators attempt to conduct a hunt aboard the ship.
Alien vs. Predator: Fire and Stone formed the Aliens vs. Predator component of Dark Horse's franchise-crossing Fire and Stone event in 2014/2015, and was released in conjunction with Prometheus: Fire and Stone, Aliens: Fire and Stone and Predator: Fire and Stone. The four series all share an interconnected story.
In the Aliens vs. Predator comics line, Alien vs. Predator: Fire and Stone was preceded by Aliens vs. Predator: Special Collector's Edition.
Publisher's Summary
Edit
#1: As the mercenary crew of the Perses leave the horror of LV-223 behind them, one passenger reveals a terrible new danger, and the crew soon find themselves in a deadly struggle between predator and prey!
#2: A terminally ill scientist's desperate experiment yields deadly results, and offers the Predators a chance to hunt an invincible new game!
#3: When a Predator is exposed to a mysterious genetic accelerant, the rest of the hunting party is put in unforeseen peril. And as the android Elden continues his violent evolution, his Xenomorph allies reject him from the hive.
#4: As a desperate scientist's violent evolution reaches its deadly apex, an alien-and-predator battle royale erupts in the bowels of the doomed Geryon armada! Now, on a ship of killers — there can be only one survivor...
Characters
Edit
Reprint History
Edit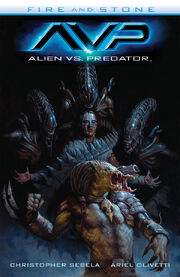 Alien vs. Predator: Fire and Stone was collected as a trade paperback released in June 2015, reusing E. M. Gist's cover for issue 1 as the cover artwork.
The series was collected again, along with the other Fire and Stone stories, in Prometheus: The Complete Fire and Stone in October 2015.
Issue covers
Edit
Variant covers
Edit