Aliens vs. Predator: Dead Space
Talk

0
2,617pages on
this wiki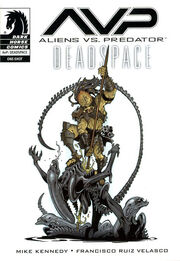 Aliens vs. Predator: Dead Space was a limited one-shot promotional mini-comic book published by Dark Horse Comics in March 2008 exclusively for inclusion in the 2-disc unrated DVD release of Aliens vs. Predator: Requiem, which was only available at Best Buy. It was written by Mike Kennedy and illustrated by Francisco Ruiz Velasco. The issue was edited by David Land and assistant edited by Katie Moody.
The issue was never made available anywhere else.
This was the last new AVP comic to be released in any form before Dark Horse relaunched the AVP line in 2009/2010 with the Aliens/Predator Free Comic Book Day Split Issue (May 2009) and the miniseries Aliens vs. Predator: Three World War (Jan.-Sept. 2010).
Two astronauts, Dennis and Carl, are adrift in space when Carl begins to enter the atmosphere of a planet. It then cuts back to earlier when the to are about to board a ship. Once on board they discover the corpses of the crew who died from what appears to of been pressure loss. As the two are investigating, flashbacks of the crew being killed by Predators and Aliens are shown. One of the astronauts discovers a dead, captive Queen. The two are then attacked by Aliens and Predators. A Predator activates a grenade, destroying the ship and the humans are sent adrift. It then cuts back to the beginning. Carl then begins burning up in the atmosphere of the planet while Dennis is approached by three Aliens.
Behind the Scenes
Edit
In addition to Aliens vs. Predator: Dead Space, Chicago-based comic book and video game writer Mike Kennedy also wrote all three other AVP-movie-related comics for Dark Horse including the tradepaperbacks Alien vs. Predator: Thrill of the Hunt (2004), Alien vs. Predator 2: Civilized Beasts (2006), and Alien vs. Predator: Sand Trap (2007).
These four comics basically constitute a separate sideline of Alien vs. Predator (as opposed to the normal spelling of Aliens vs. Predator) comics from Dark Horse with Kennedy as writer, and were the only new Aliens, Predator or AVP comics produced by the company throughout the 2000s.
Dead Space was also the name of a video game which was obviously influenced by Alien released in October of the same year.