"Sideshow Collectibles is thrilled to present the Alien Warrior Legendary Scale™ Bust. Our artisans have replicated one of Hollywood's most memorable monsters to exacting standards, and at roughly one-half scale, this miniature xenomorph is no less intimidating than its life size counterpart. Hand-finished with a wealth of fine detail and signature glossy-wet appearance, the Legendary Scale™ Bust accentuates the distinct exo-skeletal sinewy ridges, and brown coloration of the warrior as seen in James Cameron's 1986 sequel. Incorporated into the base of the bust is a relief design of an Alien egg and facehugger - a special nod to the rich film lore of the Aliens universe. With terrifying inner jaws exposed, the eerie Alien Warrior Legendary Scale™ Bust is so lifelike you can almost hear it's menacing hiss - think twice before getting too close!"
―Alien Warrior Legendary Scale™ Bust by Sideshow Collectibles description (from Sideshow Collectibles.com)

The regular edition of the bust.
Alien Warrior Legendary Scale Bust
Production Information
License
Based on
Manufacturer
Limited Edition

TBD

Artists

Amilcar Fong of "Viggiano Studio" (Design)
Amilcar Fong of "Viggiano Studio" (Sculpt)
Time Gore (Paint)
Anthony Mestas (Paint)
The Sideshow Collectibles Design and Development Team

Type

Legendary Scale™ Bust

Size and Weight
Scale

Roughly one-half

Size

13.5" H (342.9mm) x 11" W (279.4mm) x 18" L (457.2mm)*

Product Weight

12.00 lbs (5.44 kg)*

Dimensional Weight

TBD

Int'l Dim. Weight

TBD

Pricing
Single Payment

$359.99 USD

Payment Plan

as little as $64.80 USD/month

Other Information
Product Sku

2002341

UPC

747720225107

  [Source]
The
Alien Warrior Legendary Scale Bust
is an upcoming, roughly one-half scale bust by
Sideshow Collectibles
based on a
Xenomorph
Warrior
from
Aliens
.
Overview
General
The Alien Warrior Legendary Scale Bust is based on a Warrior Xenomorph from Aliens and as such, features the signature elongated head of the Xenomorph with the ridged skull design. The Warrior has its mouth open exposing the inner jaw which is slightly extended and is also open a little. The bust is hand-finished with a wealth of fine detail and has signature glossy-wet appearance, the bust accentuates the distinct exo-skeletal sinewy ridges, and brown coloration of the Warrior seen in Aliens. The bust is at roughly one-half scale. As an additional nod to the film lore, Sideshow has incorporated a special design relief of an Egg and Facehugger at the back of the bust.
Sideshow Exclusive Edition
The Sideshow Exclusive Edition includes an Aliens nameplate display at the bottom left of the bust.
Inaccuracies
The chest of the bust lacks the ribcage-like design and the back of the bust lacks the five dorsal tubes of the Warrior.
Sideshow Collectibles description
"Standing up to 8 feet tall the Alien Warrior can be almost easily identified by it's ridged skull and bladed tail. These fast-moving and stealthy creatures were first seen in James Cameron's film Aliens. Sideshow Collectibles' Alien Warrior Legendary Scale Bust is the latest collectible in our line of Alien, Aliens, and Aliens Vs Predators pieces. This latest Bust will be available for Pre-Order on Thursday, October 24th, 2013!"
Trivia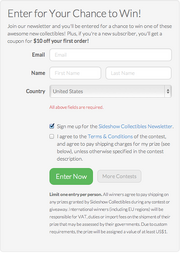 Sideshow Collectibles held a contest to win one of the Alien Warrior busts. Plus, if you were a new subscriber, you would have received a coupon for $10 off your first order. The contest was limited to one entry per person and the winner had to agree to pay shipping on any prizes granted by Sideshow Collectibles during any contest or giveaway. International winners (including EU regions) would have been responsible for VAT, duties or import fees on the shipment of their prize that may be assessed by their governments. Due to custom requirements, the prize was assigned a value of at least US$1.
The Presenting the Alien Warrior Legendary Scale Bust blog and Alien Warrior product page on Sideshow Collectibles.com misquote Newt's line in Aliens. In the film she said "they mostly come at night... mostly.", but the blog and site say "They mostly come out at night…mostly."
Gallery
External Links