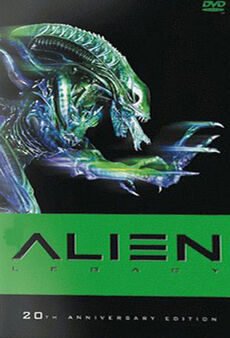 The Alien Legacy is a 1999 five-disc DVD/five-cassette VHS box set which, for the first time, collected together the four films Alien, Aliens, Alien3 and Alien Resurrection. Along with the simultaneous individual releases of each of the four films, it was also the first time the movies of the Alien franchise had been released in the DVD format.
The set was released to coincide with the 20th anniversary of the release of Alien in 1979. A special documentary on the making of that film, also titled The Alien Legacy, was created especially for the set, although delays in its production meant it was not initially included in the United States.
Overview
Easter eggs
As well as the advertised material, the Alien Legacy DVD box set also contains several secret Easter eggs that allow access to otherwise hidden content. Both of the set's Easter eggs can be accessed from the special features section on the Alien disc. The first is the Nostromo flight plan and biographies for each of the crew, the latter of which are based on Ridley Scott's original character notes, while the second is a report on the various stages of the Xenomorph's life cycle compiled by Ash.
VHS edition
As well as the five-disc DVD edition, a VHS edition of the Alien Legacy was also released, consisting of five VHS cassettes. These tapes contained Alien along with its theatrical trailer, the Aliens Special Edition, Alien3 and its theatrical trailer, Alien Resurrection and its theatrical trailer and the Alien Legacy documentary, respectively.
Contents
Disc 1: Alien
Disc 2: Aliens Special Edition
Disc 3: Alien3
Disc 4: Alien Resurrection
Disc 5: The Alien Legacy
Trivia
References
↑ "The Digital Bits - Blu-ray Review: Alien Anthology". Retrieved on 2016-01-11.