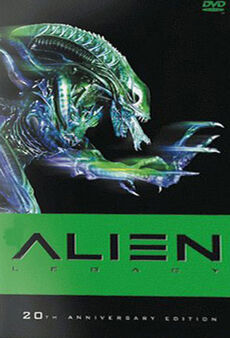 The Alien Legacy is a 1999 five-disc DVD/five-cassette VHS box set which, for the first time, collected together the four films Alien, Aliens, Alien3 and Alien Resurrection. Along with the simultaneous individual releases of each of the four films, it was also the first time the movies of the Alien franchise had been released in the DVD format.
The set was released to coincide with the 20th anniversary of the release of Alien in 1979. A special documentary on the making of that film, also titled The Alien Legacy, was created especially for the set, although delays in its production meant it was not initially included in the United States.
Contents
Disc 1: Alien
1979 theatrical version
Audio commentary with director Ridley Scott
Alternate music and production sound audio track
2 outtakes
Trailers and TV spots
Photo gallery
Disc 2: Aliens Special Edition
Disc 3: Alien3
Disc 4: Alien Resurrection
1997 theatrical version
HBO First look: The Making of Alien Resurrection documentary
Theatrical trailer
Disc 5: The Alien Legacy
Trivia
The Alien Legacy is the only Alien home video set to receive both DVD and VHS versions — previous box sets consisted only of VHS releases (as the DVD format had not yet come into being) while subsequent sets were released only on DVD or Blu-ray (as VHS had by that point been made largely obsolete).