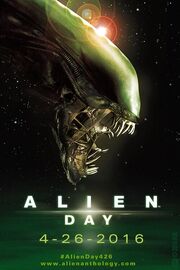 Alien Day or Aliens Day is an infrequent promotional event related to the Alien franchise. To date, there have been two such events; the first was held in 2009, while a second was held in 2016. Both dates share some relation to the release of films in the Alien series — 2009 was the 30th anniversary of the release of Alien, while 2016 is the 30th anniversary of the release of Aliens.
The original Aliens Day was purely a marketing tool created by Dark Horse Comics, in relation to the re-launch of their Aliens comics line after a ten-year hiatus, but the 2016 Alien Day event was adopted by 20th Century Fox as an official promotional event dedicated to the Alien franchise.[1]
Aliens Day 2009Edit
The first event, labelled Aliens Day by creators Dark Horse Comics, was held on May 25, 2009, exactly 30 years to the day since the original theatrical release of Alien in 1979. As part of the event, Dark Horse released a special variant of Free Comic Book Day: Aliens/Predator, featuring alternate Aliens cover artwork by Chris Warner. The company also published a special double-sided flip poster featuring the cover artwork from the first issues of the 2009 limited series Aliens: More Than Human and Predator: Prey to the Heavens, by Zach Howard and Brad Anderson (Aliens) and Raymond Swanland (Predator).
Alien Day 2016Edit
The second event, officially titled Alien Day and run by 20th Century Fox, was held on April 26, 2016. Similarly to the previous event, it was timed to coincide with the 30th anniversary of the release of Alien's sequel, Aliens. However, rather than taking place on the exact day of Aliens' release, the date was instead a reference to the planetoid on which the film is set — 4/26/16, LV-426.
As part of the event, Fox teamed up with a number of licensing partners to produce a multitude of special releases, "showcasing everything from unique apparel to exclusive comic books to high-end collectables".[1] In response to the official announcement of the event, Jeffrey Godsick, President of 20th Century Fox Consumer Products, stated: "The Alien franchise holds a special place not only within the universe of Fox but with movie enthusiasts across the galaxy."[1]
Special releases for Alien Day 2016 included:
Reebok Alien Stomper sneakers: Reebok released the Reebok Alien Stomper, an exact replica of the High-Top Stompers worn by Ripley in Aliens, as well as a mid-top sneakers worn by Bishop. Both were limited editions.
Alien digital pinball: Zen Studios launched an Aliens vs. Pinball video game via iTunes, Google Play, PlayStation Network, Xbox Live and Steam.
Alien: Invasion: Titan Books published Alien: Invasion, the second novel in the Rage War trilogy.
Aliens 30th Anniversary comic: Dark Horse Comics published Aliens 30th Anniversary: The Original Comics Series, a special hardcover, "oversized" (8 × 12) edition of Aliens: Book One featuring the original, unedited story in its original black and white format.
Alien: Out of the Shadows audio book: Audible released an audiobook version of the novel Alien: Out of the Shadows by Tim Lebbon, read by Matthew Lewis, Laurel Lefkow, Corey Johnson and Rutger Hauer in his first audio role.
Alien derelict: Hollywood Collectibles released an Alien Derelict Spaceship Statue of the derelict seen in Alien.
Aliens Loot Crate: Loot Crate released a limited edition Aliens 30th Anniversary Crate packed with exclusive goodies.
Alien: The Weyland Yutani Report: Insight Editions published the hardback standard edition of Alien: The Weyland-Yutani Report.
Aliens T-shirt: Fright Rags released an exclusive Aliens T-shirt limited to just 426 units.
Super 7 Alien figures: Super 7 released a Nostromo 3-pack figure set containing figures of Kane, Lambert and Dallas in Nostromo space suits, an exclusive Alien vinyl carry case for ReAction figures, packaged with an exclusive glow-in-the-dark Alien figure, as well as an Alien Queen Molten Silver Gray vinyl figure.
Mondo merchandise: Mondo unveiled a wealth of exclusive merchandise, including art prints, T-shirts, knitwear, patches, pins and a liquid-filled vinyl edition of the Aliens soundtrack.
Dark Bunny T-shirts: Dark Bunny Tees offered a range of Alien-themed T-shirts, including a replica of Pvt. Frost's "PEACE THROUGH SUPERIOR FIREPOWER" T-shirt, along with an exclusive Bug Stomper satchel bag.
Aliens miniatures: Diamond Select Toys released a range of Aliens miniature figures.
Alien & Aliens return to theaters: Alamo Drafthouse produced a screening program on April 26 that saw both Alien and Aliens return to theaters across America, including as special double-feature screenings at select venues. At Alamo locations, each pre-ordered ticket included a Mondo-designed Alien T-shirt, released exclusively for the event screenings. Screenings were additionally accompanied by exclusive Alien merchandise — including apparel, accessories, posters and records — from pop-culture company Mondo. Vue Cinemas and Cineworld ran similar programs in the UK, showing double bills of the Alien Director's Cut and the Aliens Special Edition at select venues. The Astor Theatre in Melbourne, Australia also showed an Alien/Aliens double bill.
Alien: Ultimate Trivia Challenge: Fox ran a 24-hour trivia contest via Twitter that saw trivia questions asked every 42.6 minutes. Each trivia question (35 in a 24-hour cycle) offered fans the chance to win various prize packages from 20th Century Fox's Alien franchise licensing partners. To qualify to win the corresponding prize, participants had to "Reply" to the initial "question tweet", correctly answer the question, and use the #AlienDay426 and #Contest hashtags. A winner (or "winners" when multiple prizes are offered) were then be selected for each of the questions.
The most recent iteration of Alien Day, taking place on April 26, in fact began as a fan event based in New York City. The first unofficial "Aliens Day" was organised by Aliens fan Alaric Hahn of Brooklyn, New York for April 26, 2015.[2] In February the following year, a promotional image for Hahn's 2016 event was shared by NECA toys on Twitter to much popularity,[3] possibly indicating the fan event was the impetus for 20th Century Fox to adopt the day officially.
References
Edit
↑ 1.0 1.1 1.2 "AVPGalaxy - 4/26 – Alien Day Celebrations!". Retrieved on 2016-03-30.
↑ "Twitter - Ripley". Retrieved on 2016-04-19.
↑ "Twitter - NECA". Retrieved on 2016-04-19.
Ad blocker interference detected!
Wikia is a free-to-use site that makes money from advertising. We have a modified experience for viewers using ad blockers

Wikia is not accessible if you've made further modifications. Remove the custom ad blocker rule(s) and the page will load as expected.