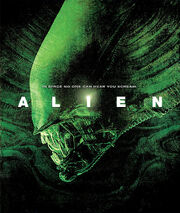 Alien is a 2011 Blu-ray Disc release of the 1979 film Alien. It contains on disc: the Alien disc first included with the 2010 Alien Anthology Blu-ray set. The single disc includes both the original 1979 theatrical version and 2003 Director's Cut of Alien along with commentaries, score and deleted and extended scenes. The disc was first released May 10th, 2011 in the US and Canada, January 30th, 2012 in the UK, February 3rd, 2012 in Germany and July 18th, 2012 in Japan. The case has sometimes come in an embossed slipcase and a German steel book is also known to exist. The UK version (with its case) was later included with the 2012 Alien Anthology set.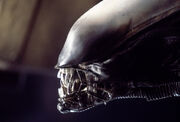 The image of the Alien on the cover is actually a modified version of the well known image viewable to the right.
Ad blocker interference detected!
Wikia is a free-to-use site that makes money from advertising. We have a modified experience for viewers using ad blockers

Wikia is not accessible if you've made further modifications. Remove the custom ad blocker rule(s) and the page will load as expected.