"AVAILABLE DATA INSUFFICIENT"

This article is a stub or needs expansion. Help Xenopedia by expanding it.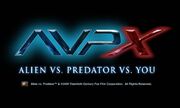 AVPX, also known as AVPX: Alien vs. Predator vs. You, was a themed laser combat experience based on the 2004 film Alien vs. Predator and located in Dreamworld theme park, Queensland, Australia.
There were two teams; humans and infected humans.
Points were earned by shooting the other team, Eggs and the Queen located at the back of the map.
External links
Edit
Ad blocker interference detected!
Wikia is a free-to-use site that makes money from advertising. We have a modified experience for viewers using ad blockers

Wikia is not accessible if you've made further modifications. Remove the custom ad blocker rule(s) and the page will load as expected.