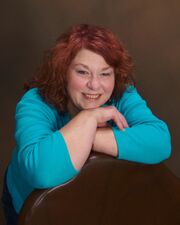 Ann Carol Crispin (April 5, 1950 – September 6, 2013) was an American science fiction writer who wrote the novelization of Alien Resurrection.
Crispin took over the job of novelising of the Alien films from Alan Dean Foster; both Crispin and Foster had previously written novels set in the Star Trek universe.
Ad blocker interference detected!
Wikia is a free-to-use site that makes money from advertising. We have a modified experience for viewers using ad blockers

Wikia is not accessible if you've made further modifications. Remove the custom ad blocker rule(s) and the page will load as expected.